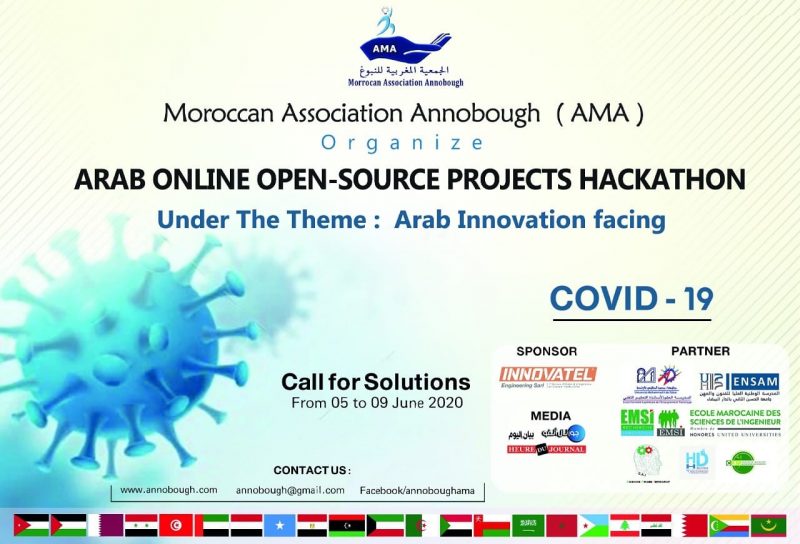 Moroccan Association Annobough (AMA) Arab Online Open-Source Projects Hackathon 2020
Deadline: June 3, 2020
Applications are open for the Moroccan Association Annobough (AMA) Arab Online Open-Source Projects Hackathon 2020. As part of efforts to combat the spread of the coronavirus (COVID19), the Moroccan Association Annobough is organizing a competition from June 5 – 9, 2020.
The Hackathon which will take place online due to the state of health emergency decreed by the competent authorities, for project leaders from different Arab countries allowing them to demonstrate the potential of their ideas.
Competition Details
The competition is an online challenge in which teams from different Arab countries will compete by providing creative and innovative solutions to open source projects to address the problems caused by the COVID19 virus which includes the following areas:
Fields of medical devices, computer diagnostic programs in general and respiratory devices in particular.
Field of equipment for personal protection.
Prizes
Personalized coaching and training adapted by experts
Communication of your project to the media
Financial and administrative consulting
Project setup
Fundraising
Professional prototype
Eligibility
Open to teams from different Arab countries;
The team consists of a minimum of 2 people and a maximum of 5 people.
Application
There are two phases of the competition:
Phase 1: Developing ideas
Phase 2: Presentation of the prototype
The Hackathon will run from June 5 to June 9, 2020.
For more information, visit Moroccan Association Annobough.