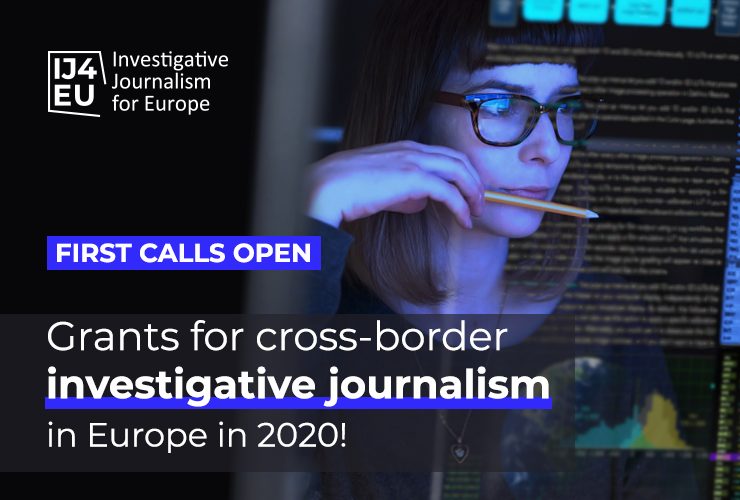 IJ4EU Investigation Support Scheme 2020 for New Investigative Projects in Europe (up to €50,000)
Deadline: June 14, 2020
Applications are open for the IJ4EU Investigation Support Scheme 2020 for New Investigative Projects in Europe. IJ4EU's Investigation Support scheme provides financial support to new investigative projects, including projects that have only recently begun or new phases of existing projects.
IJ4EU (Investigative Journalism for Europe) is a fund to support cross-border investigative journalism. They provide grants to teams of journalists in Europe investigating topics of public interest.
Grants
Teams can apply for grants between €5,000 and €50,000. The Investigation Support scheme expects to provide €800,000 in grants in 2020.
Eligibility
Applications must be submitted by teams based in at least two EU member states or at least one EU member state and one official candidate country.
UK-based journalists will still be fully eligible for the 2020 IJ4EU grants. In addition, the projects (whether proposed or ongoing) must focus on topics of cross-border relevance.
Investigations on all topics will be considered.
Teams of freelance journalists, staff journalists, and media organizations, or any combination of these, are equally welcome to apply.
Teams working in all types of media – including print, broadcast, online media, documentary filmmaking, and multi-platform story-telling – will be considered.
Projects must aim to be published by media outlets in at least two countries.
Application
There will be two calls in 2020 under the Investigation Support scheme.
The first call opened on May 5, 2020. The application deadline is June 14, 2020. The second call is expected to open on August 10, 2020. The application deadline is expected to be September 18, 2020.
For more information, see FAQs and visit IJ4EU Grants.