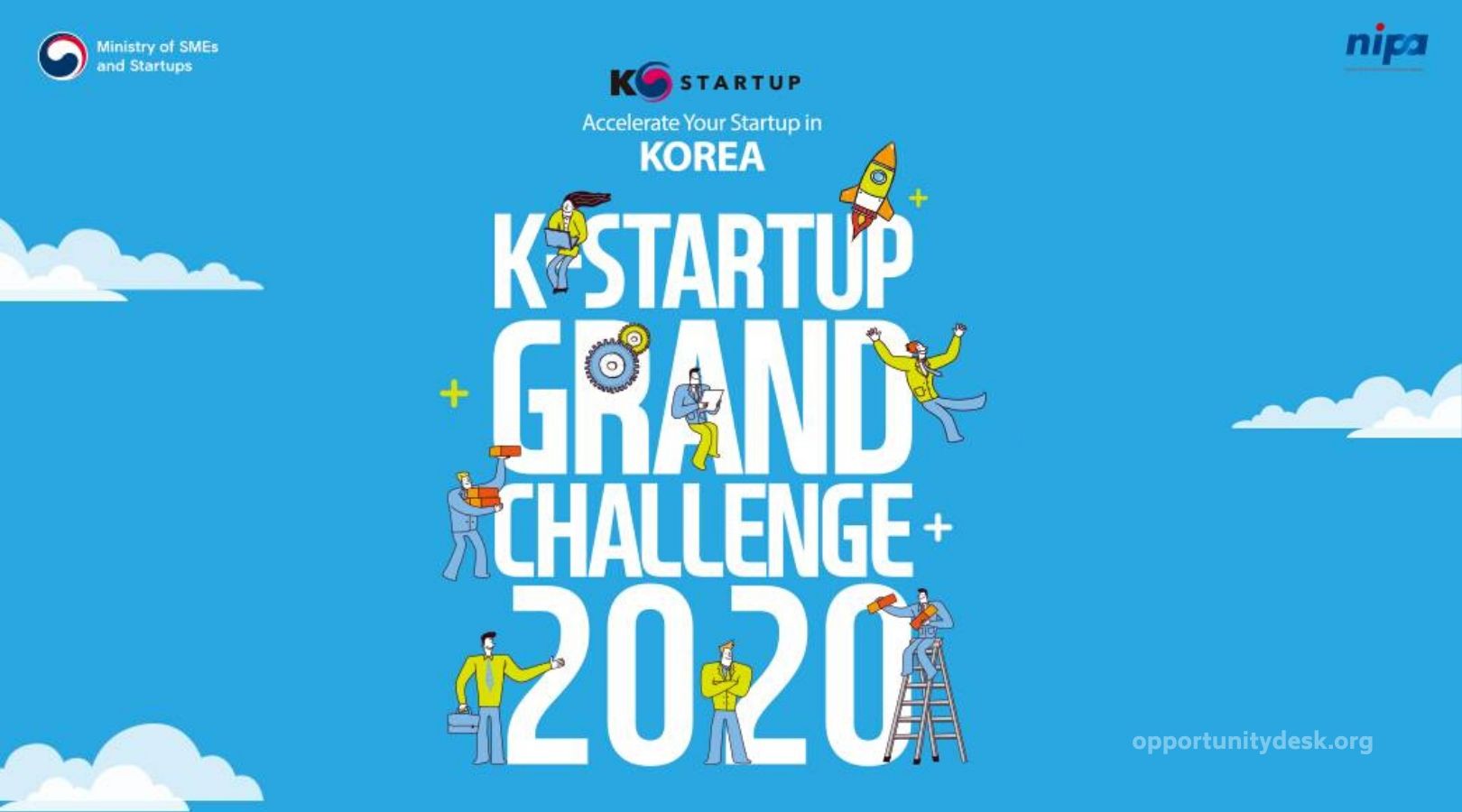 K-Startup Grand Challenge 2020 for Global Startups to enter Korean and international markets (fully-funded)
Deadline: June 25, 2020
Entries are open for the K-Startup Grand Challenge 2020. The KSGC is an inbound program designed to attract promising foreign startups to Korea within the "Global Accelerating Activation Program" under the Ministry of SMEs and Startups of the Republic of Korea. The program aims to support promising foreign startups to enter Korean and international markets and promoting Korea as the global leading startup business hub.
The participating teams will establish corporations in Korea and hire Koreans with the objective to run businesses in Korea, as well as create new businesses within Korea and expand to the overseas market, and consequently contribute to the globalization of the Korean startup ecosystem.
About
The Korean government is working to transform the country's economy for another century of success, ultimately raising employment, the GDP and Korea's place in the world. In order to do this, the government is supporting talented entrepreneurs and promising startups, to turn Korea and Pangyo Creative Economy Valley into a global startup hub in Asia.
The top ranked 60 teams selected by the accelerators will be invited to stay in Korea to participate a 3 month accelerating program in Pangyo, located in the south of Seoul.
At the end of the acceleration program, the government will host a demo day to select top 30 startups. These startups will get additional financial incentives, and if they choose to establish their businesses in Korea, they will get additional support from the government.
Program Components
Global Auditions: Based on application review, the organizers of the K-Startup Grand Challenge will select 60 teams from around the world to interview by online via web conferences. 60 teams total will be selected by accelerating company.
Accelerating Progrm:

Support for living & Daily expenditure : 3,500,000 KRW/month/team of one person, 5,000,000 KRW/month/team of two people

The three months.
Up to two members of each of the most promising startup teams will travel to Korea.
The 60 teams will be able to use a project space, including equipment for product production and service development, test bed as well as an incubating infrastructure information sessions and coaching on Korean and Asian business culture, specific business topics (e.g. patents, accounting regulations, tax laws, etc.), pitching lessons and one-on-one monitoring will be provided.
The teams will be able to interact with Korean companies including major companies such as Samsung, Hyundai motors, KT Corporation or SK Group through conferences, seminars, workshops, etc.
Meanwhile, networking and matchmaking events will be organized throughout the program in order to promote international cooperation between startups, local successful entrepreneurs, distinguished researchers and engineers and large company representatives.
Benefits of the Program
Settlement Fund (Including self quarantine expense). Each of the 60 startups in the program will receive money to cover the living expenses over 3.5 months.
Start-up visa program through the OASIS (Overall Assistance for Startup Immigration System)
Accelerating programs (training, mentoring, consulting on the corporate establishment, investment support events, etc.)
Free Office and Project Space (Startup Campus)
Help desk (settlement support, life convenience support, etc.)
Incubating facilities
Korea Intern working for you to help your business in Korea
Corporate Sponsorship and Support
Final Package Grant for Top 30 Startups (Jan – Apr 2021)
Each of the selected top 30 startups will be eligible to receive funding for 3.5 months.
$10,840 (₩12,250,000) per team of 1 person
$15,490 (₩17,500,000) per team of 2 people
Grant for Top 5 Startups
1st Prize: $120,000 (₩135,600,000)
2nd Prize : $60,000 (₩67,800,000)
3rd Prize : $30,000 (₩33,900,000)
4th Prize : $20,000 (₩22,600,000)
5th Prize : $10,000 (₩11,300,000)
Additional Investments:
The accelerators may make equity investments in the most promising startups. Startups may have access to other VCs and investors who may choose to invest.
Eligibility
Applications are accepted from startups around the world during this time.
A startup or a pre-startup team of not more than 7 years, whose representative has foreign nationality or is an overseas Korean (foreign national or a foreign compatriot)
Technology-based startups that have prototype or product/service and at initial investment stage.
The team must have a clear growth objective for entering the overseas market, with their base in the Korean market, with the goal of settling down in Korea.
The team leader and members must not be disqualified from staying in Korea or acquiring a related visa in Korea, and the team must have one or more member with a bachelor's degree or higher.
The team must have people who can communicate in English(required) and Korean(optional) to establish a business in Korea. There is no other limitation such as investment or revenue status, etc.
Criteria
Evaluation for documents shall be based on the criteria below.

– Business Plan / Idea / Asian Market fit
– Strategy & Execution / Team Building

2. Evaluation for interview shall be based on the below criteria.

– Target Market / Problem or Need / Solution / Team, Board, Advisors
– Traction / Competition vs. Competitive Advantages / Revenue Model
– Financial Projections / Asian market fit / Overall Presentation · Q&A
Application
You can ONLY apply through the official website, www.k-startupgc.org. Others such as email, phone, mail will not be accepted.
For more information, visit K-Startup.