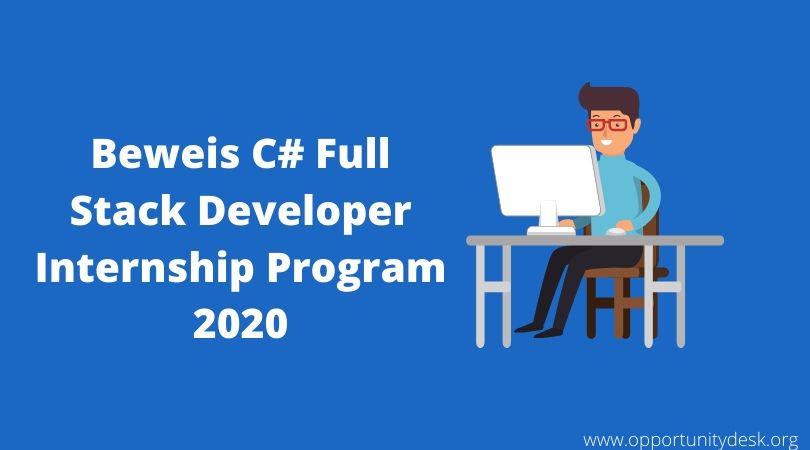 Beweis C# Full Stack Developer Internship Program 2020 in France (Stipend available)
Deadline: Unspecified
Are you passionate about software engineering and technically curious? Are you eager to join an innovative company and play a hands-on and high-impact role within the development team? Apply for the Beweis C# Full Stack Developer Internship Program 2020.
You will join Beweis' dynamic software development team as a C# Full stack developer intern. Together with the team, you will develop and upgrade their software solutions in line with coding rules and norms and internal quality standards. The internship is for a period of six months.
Responsibilities
Selected interns will be working in the following fields:
C# with the latest versions of Framework .Net
WPF (Windows Presentation Framework), XAML, XML
Microsoft SQL Server, Entity Framework
Cloud : Microsoft Azure
RFID (Radio Frequency Identification)
Microsoft Visual Studio 2017
Material interfacing: RFID printers, biometric readers, etc.
Cryptography, security, etc.
Low-level development for communication protocol implementation
Windows
Benefits
Startup atmosphere in a dynamic and innovative company, casual and fun office environment.
A great location in the South of France. You will join their headquarters located in Gémenos, France.
Compensation: €1,000 net/month + public transportation pass
At the end of the internship, there may be an opportunity for a permanent position within the software development team.
Eligbility
Final year of engineering or IT studies (Master's degree required). Please note that only final year students will be considered for the internship;
Applicant should have excellent English skills (at least C1 level);
Experience in object development;
C# language skills;
Excellent knowledge of IT technologies.
Note: if you are a non-EU citizen, a visa will be required for you to come to France. The process might take up to 3 months after they have selected you to join their team.
Application
To apply, send your CV and application letter to Julie LEDORRÉ via [email protected]
For more information, visit Beweis C# Full Stack Developer Internship.