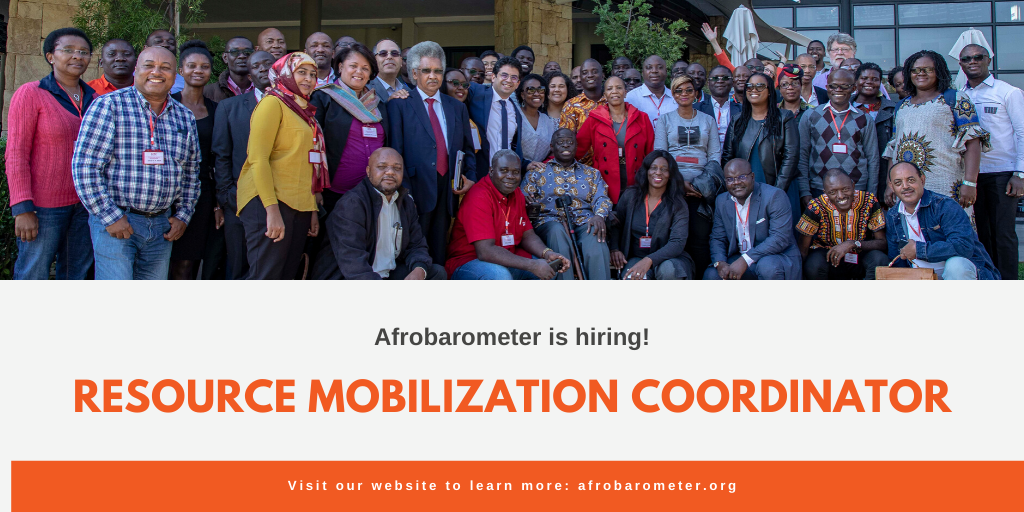 Afrobarometer is hiring a Resource Mobilization Coordinator
Deadline: July 24, 2020
Afrobarometer has a new opening for a Resource Mobilization Coordinator to support their fundraising efforts. The Resource Mobilization unit is responsible for forging partnerships built on trust and mutual accountability and for attracting philanthropic contributions to support AB's goals.
The RM Coordinator is the first dedicated fundraising role to be hired into the team, so will support all aspects of the RM team's work as directed by the DoE. As the team expands with fundraising success, there will be an opportunity for growth.
The Resource Mobilization team commits itself to:
Taking a modern, professional African approach to fundraising
Developing a robust and compelling Case for Support
Growing the pool of current and potential funders
Increasing the number and value of grants to enable AB's sustainability
Delivering competent funding proposals to achieve AB's aims and objectives
Effectively stewarding and communicating with funders
Ensuring rigorous grant management
Coordinating fundraising across the wider AB network
Adhering to both AB fundraising policies and guidelines and global fundraising regulations
About Afrobarometer
Afrobarometer (AB) is a pan-African, nonpartisan, nonprofit research network that measures the political, economic, and social atmosphere prevailing in African countries. Guided by the vision that African societies thrive when African voices count in public policy and development, AB provides high-quality data and analysis on citizens' evaluations and experiences of democratic governance and quality of life. This is provided as a public benefit and is free to policymakers, policy advocates, civil society organizations, academics, news media, donors and investors, and ordinary Africans.
Main Duties and Responsibilities
Core Function 1 – Donor/prospect research and information management
Core Function 2 – Resource mobilization support and coordination
Salary
The salary for this post will be competitive with the market and based on the skills and experience of the successful candidate.
Eligibility
Bachelor's degree in relevant field
At least 5 years' experience in fundraising and/or associated support activities
Familiarity with fundraising cycle of identification, cultivation, solicitation, and stewardship
Donor research and database management experience
Knowledge of data-protection legislation and international fundraising best practice
Competency with MS Word, Excel, G-suite, Salesforce (or equivalent CRM system), PowerPoint and Internet
Fluent spoken and written English
Others:
African citizenship or heritage
Knowledge of philanthropy and grant making
Successful grant writing
Multi-lingual, ideally fluent French, Portuguese and African languages
Application
Documents to include:
An up-to-date curriculum vitae with contact details (your email, phone, postal and Skype address)
A personal statement describing:

your interest in the post and in working with Afrobarometer
specific and detailed evidence of how your skills, experience and knowledge meet the Selection Criteria. If you lack experience or evidence in any area listed, please state how you would gain the knowledge or competency needed to succeed in the role.

Your availability for the post (notice period in your current role) and preferred working location.
Please send your application to [email protected] Include your name and position title in the subject field of your email. Example: "Subject: [YOUR NAME] AB RM Coordinator"
For more information, visit Afrobarometer.