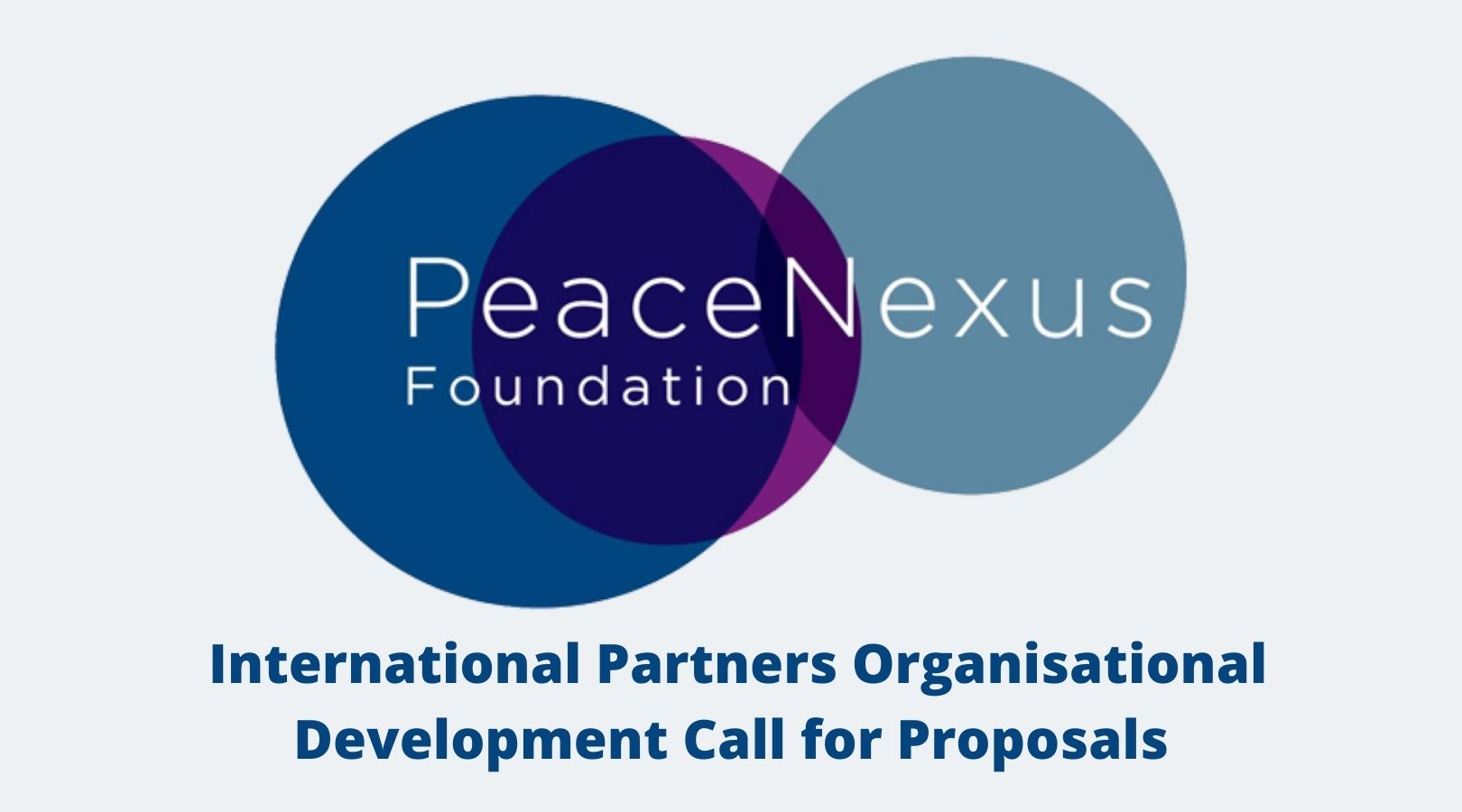 PeaceNexus International Partners Organisational Development 2020 Call for Proposals
Deadline: July 28, 2020
PeaceNexus invites applications from international organisations that have peacebuilding as their primary mandate and are active or present through partners/members in at least 5 countries. Their Organisational Development support will address their internal challenges, with the aim of strengthening their ability to support local peacebuilding actors, including women and youth-led groups.
PeaceNexus supports global leaders and organisations that have a strong peacebuilding impact in fragile states. They currently provide organisational development support to nine international partners, including two multilateral agencies that have a peace and security mandate.
Benefits
PeaceNexus' contribution includes more than a financial contribution. As an engaged partner our support includes:
Direct process accompaniment from PeaceNexus
Financial contribution to cover costs directly associated with the process
Eligibility
With this 2020 Organisational Development (OD) Call, they wish to partner with international organisations that have peacebuilding as their primary mandate and want to strengthen their ability to support local peacebuilding actors, including women and youth-led groups.
They are particularly interested in supporting civil society networks and organisations that serve to strengthen local peacebuilders and increase their influence.
They look for innovative leaders that can influence global policy and practice and directly support locally-led peacebuilding, particularly in our focus regions.
Applicants need to fill all the following eligibility criteria:
Be a civil society organisation or a network or a foundation;
And have building peace and social cohesion at the core of their mission or mandate;
And have a presence (directly or through partners/members) in at least 5 countries, preferably including their focus regions (Central Asia, South East Asia, West Africa and the Western Balkans)
And be directly responsible for the preparation of the application and management of the process if selected (not acting as intermediary), and
Confirm that their activities will not violate the USA PATRIOT Act (18 U. S. C. §2339B)
Selection criteria
Relevance of the applicant and its role in strengthening local peacebuilding
Readiness to engage in an organisational or network development process
Application
If you are interested in applying, please make sure to thoroughly read the Overview, Concept Note and Frequently Asked Questions. Then download the application form (Word format).
If you have questions that are not covered by these documents and our FAQs, please send an email to

[email protected]

.
Please make sure to consult internally and with any other relevant stakeholders (partners or members) when developing your application. Once your application is finalised, please visit the Application portal and: 1) fill in the webform (requesting basic information about your organisation) 2) upload your application form (in word or pdf format). The deadline for applications is July 28 2020 (23.59pm CET).
Once you submit your application, you will receive an automated confirmation of receipt.
There is no need to follow up with us from your side, we will only get in touch if we need clarification about your application or if you are shortlisted.
Our staff conducts the assessment and prepares the shortlist but the final selection decision will be taken by the Board of PeaceNexus at the end September.
Unsuccessful applicants will hear back from us by the end of September.
For more information, visit PeaceNexus.