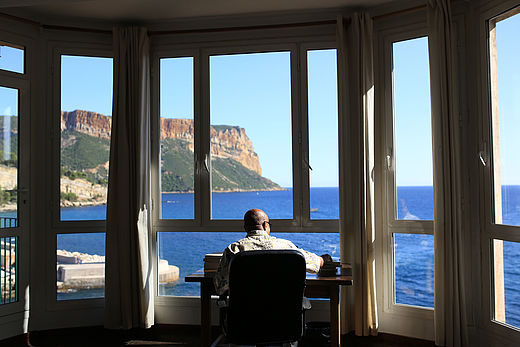 Camargo Core Program 2021-2022 for Scholars, Thinkers and Artists (Stipend available)
Deadline: October 1, 2020
Applications are open for the Camargo Core Program 2021-2022. The Core Program, which was initiated in 1971, awards 18 international fellowships in the Arts and Humanities, supporting research and experimentation that challenge the borders of academic and artistic inquiry while promoting cross-disciplinary and cross-cultural exchange.
With the flagship Core Program at its center, in recent years Camargo has embarked on various collaborations with local and international organizations to forge a wide variety of new programs that further enhance the Foundation's mission.
Purpose of the Residency
Research, Experiment & Create: Applicants must submit a proposal of work they would like to accomplish during their residencies. Proposals may include specific projects to develop or complete (e.g. a book, film, composition, artwork, etc.) or research into a particular topic or issue, in advance of writing or creating a work of art. Research projects should be pertinent to the Fellow's field. The Camargo Core Program welcomes both open-ended exploration, or more focused works.
Exchange & Network: During the residency, discussions are held regularly so that Fellows have the opportunity to present their work to the group. These project discussions serve as an opportunity for interdisciplinary exchange. All Fellows are required to be present at these discussions. The Camargo Foundation's staff will provide formal and informal links with the region, meetings with professionals whose areas of expertise are relevant to Fellows' work, and opportunities to attend events and to invite outside professionals to project discussions. On a voluntary basis, Fellows have the opportunity to present their work as part of the programming of cultural and educational organizations in the region. As part of Camargo's interest in engaging the local community, we encourage Fellows to also consider possible programs with students (for example, a classroom visit or hands-on workshop). Such events would be conceived and organized in close consultation with the Foundation staff.
Stipend
A stipend of $250 USD per week is provided, as is funding for basic transportation to and from Cassis for the Fellow for the residency. In the case of air travel, basic coach class booked in advance is covered.
Eligibility
The Camargo Foundation prizes diversity and welcomes applicants from all countries and nationalities, representing a broad range of creative thought and practice. Three main categories are available, and several subcategories for artists' applications.
Scholars
Scholars should be connected to the Arts and Humanities working on French and Francophone cultures, or cross-cultural studies that engage the cultures and influences of the Mediterranean region.
To be eligible for a fellowship in the "Scholars" category, applicants are expected either to hold a PhD and a record of post-doctoral scholarship, or, to be PhD candidates completing the final stages of research for, or writing of, their dissertation.
Thinkers
Thinkers include accomplished professionals and practitioners in cultural and creative fields (such as curators, journalists, critics, urban planners, independent scholars, etc.) who are professionally engaged in critical thought.
They are interested in work attuned to the theoretical arena, the arts, and society.
Artists (all disciplines)
Artists in all disciplines should be the primary creators of a new work/project and should have a track record of publications, performances, exhibitions, credits, awards, and/or grants.
They are interested in artists who have a fully developed, mature artistic voice.
Applicants may include artists who are engaged in critical thought and research-oriented projects.
When applying, artists will have to choose among the following subcategories: Visual Artists / Choreographers, Theater Directors, and Performance Artists / Writers and Playwrights / Film, Video and Digital Artists / Composers and Sound Artists / Multidisciplinary Artists.
Application
The call for applications for residencies in fall 2021 and spring 2022 will be open until October 1, 2020.
For more information, visit Camargo Core Program.