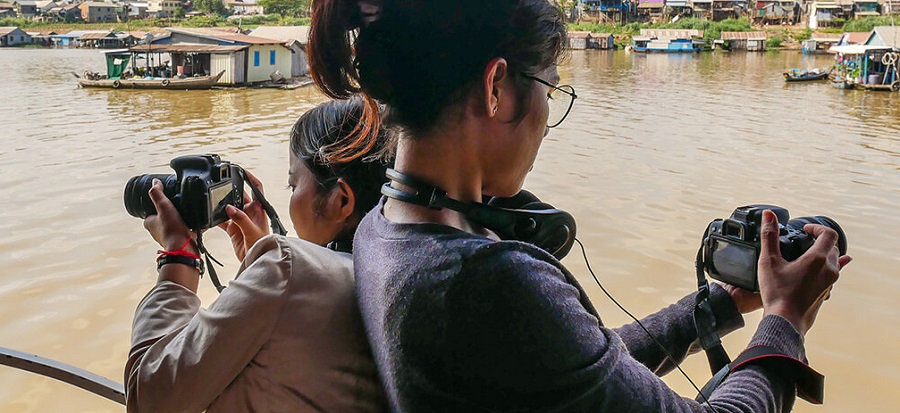 CFI Scientific Megastories Journalism Training Program 2020 for Vietnamese Reporters and Media Content Producers
Deadline: July 30, 2020
Applications are open for the CFI Scientific Megastories Journalism Training Program 2020. As part of its Mekong Sustainable News project, CFI, the French Media Development agency, is launching a training program for Vietnamese reporters and media content producers to deepen their scientific understanding of climate change and sustainable development related issues and their multimedia reporting skills.
CFI is proud to rely on the expertise of the international development NGO GRET and its AliSEA network in the region to work on specific topics linked to agricultural and natural resources management, and of the Vietnamese Journalists Training Center (VJTC) on media skills trainings.
Implementing an innovative approach to media training, CFI, VJTC and GRET will work on creating a curriculum based on "nano-modules" and personalized coaching to enable selected participants to produce visual and engaging content. Coaching will be an important part of the program to value the commitment of selected candidates and the expertise of the trainers and scientists.
Training Outline
The training cycle will start in August 2020 and will last for 6 months. It will gather up to 5 participants from Hanoi and 5 participants from Ho Chi Minh City, committing to attending 4 training sessions and coaching sessions once a month by a professional journalism trainer to publish at least 2 online multimedia stories linked to specific scientific issues linked to sustainable development and environment.
The following topics will be taught during the training sessions:
Introduction to air quality and its measurement
Introduction to microplastics pollution in the water and its potential impact on human health
Introduction to the notion of agroecology and natural resources management in Northern and Southern Vietnam
Use of data, data analysis and data visualisation
Storytelling and debunking misinformation techniques to write compelling science stories.
Benefits
All training expenses will be covered by the project and experienced media experts will support the participants in the development of their articles on environment related issues.
Eligibility
Open to junior or established journalists and media content producers from Vietnam.
Freelance journalists are also encouraged to apply.
They need to have some experience in working in media and some knowledge on environment and sustainable development.
They must be available to participate in the full training cycle from August, 2020 to February 2021 (each training will last maximum 2-3 days only).
Have interest in environmental and scientific topics.
A good level in English is recommended but not compulsory.
Application
Application should include:
Recent CV including contact information and a short biography (up to 100 words) and references (contact of line manager,
co-worker).
Copies or links of up to three published stories/ journalistic pieces related to environment in English or Vietnamese language (in most common file format (MS Word – for text articles/ blogs, etc; AVI, WMV – for video; PCM, WAV or MP3 – for audio stories. Please, contact the organisers, if there are questions related to the file format).
Short motivation letter explaining the wish to participate in the training.
All materials must be submitted in English language (except the copies of the articles to be submitted in their original published version).
For more information, visit CFI Media Development Journalism Training.