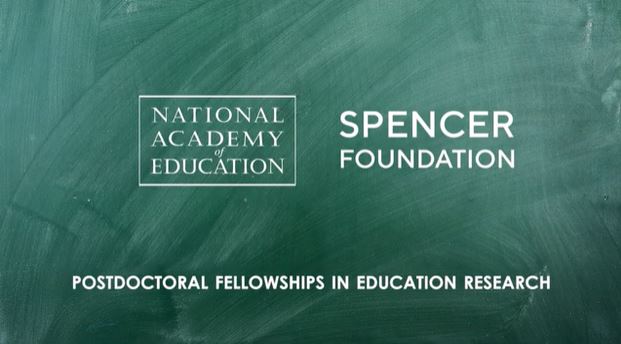 National Academy of Education/Spencer Postdoctoral Fellowship Program 2021 (up to $70,000)
Deadline: November 18, 2020
Applications for the National Academy of Education/Spencer Postdoctoral Fellowship Program 2021 are now open. The Fellowship Program supports 25 early career scholars working in critical areas of education research.
These fellowships support non-residential postdoctoral proposals that make significant scholarly contributions to the field of education. The program also develops the careers of its recipients through professional development activities involving National Academy of Education members.
The NAEd/Spencer Postdoctoral Fellowship program is special because it funds early career scholars from a wide variety of disciplinary perspectives. To date, nearly 800 current and former fellows have been awarded this prestigious fellowship, including many of today's most productive and influential education researchers.
Fellowship
One Year's Teaching Leave;
Three Professional Development Retreats Led by Senior Scholars;
$70,000 Fellowship Stipend.
Eligibility
Applicants must have received their PhD, EdD, or equivalent research degree between January 1, 2015, and December 31, 2019. Please note, if you defended your dissertation in 2019 but did not receive your diploma, or were not conferred, until 2020, then you will not be eligible to apply for the fellowship this year.
Applicant should have a demonstrated record of research experience in education.
Proposed project must be an education research project. NAEd funds studies that examine the efficacy of curriculum and teaching methods, however, they do not fund the initial development of curriculum or instructional programs.
Applications will be judged on the applicant's past research record, career trajectory in education research, and the quality of the project described in the application.
Applications must be made by the individual applying for the fellowship; group applications will not be accepted.
Non-US citizens are welcome to apply.
Concurrent funding for the proposed project is not permitted. You may not hold a grant from the Spencer Foundation at the same time as this fellowship.
Application
Application components include:
Demographic Information
Current Institutional Information
Terminal Degree Information
Project Information
Uploads and References
For more information, visit NAEd/Spencer Fellowship.