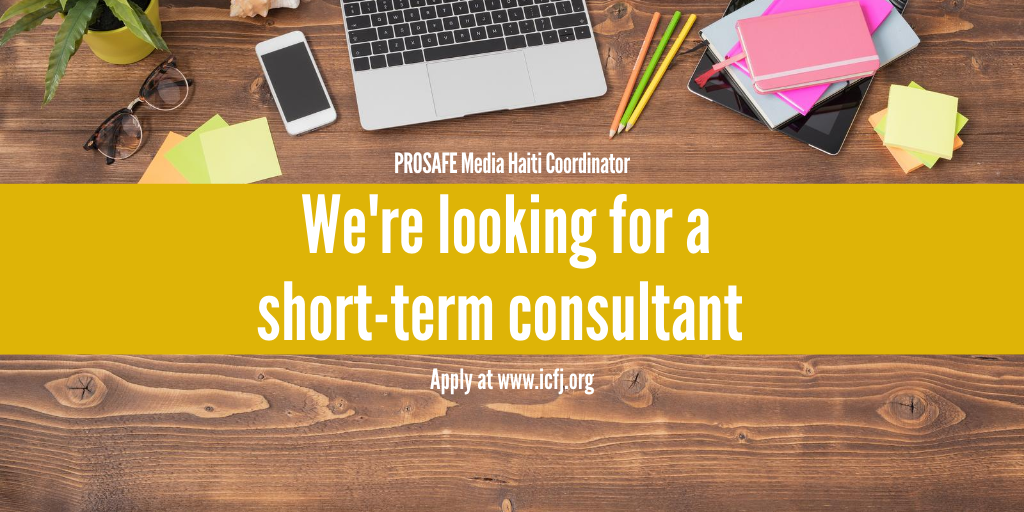 ICFJ is hiring a Coordinator for the PROSAFE Media Haiti Program
Deadline: Ongoing
Applications for the ICFJ PROSAFE Media Haiti Coordinator position is now open. The International Center for Journalists (ICFJ), a nonprofit organization based in Washington, D.C., is seeking a short-term consultant to serve as a Haiti media coordinator for its "Promoting Security and Freedom of Expression for the Media (PROSAFE Media)" program.
The Haiti coordinator will play an important role in facilitating PROSAFE's expansion into Haiti and improving ICFJ's coverage of the Caribbean. The consultancy should begin in September 2020 and will last approximately 4 months, based on effective completion of deliverables, as determined by ICFJ headquarters program staff. This is a part-time consultancy. The consultant will work remotely, but Haiti-based is preferred. The consultant will report to the Program Director of PROSAFE in the Washington, DC headquarters.
Responsibilities
Research and produce a map of the media landscape in Haiti, to include outlets, personalities, journalism schools and professors, and NGOs ;
Identify and recruit promising journalists in Haiti to participate in the ICFJ's planned virtual training events, online investigative courses, and fellowship program;
Assist with recruitment for trainings and fellowship and grant opportunities in conjunction with ICFJ and its' Colombian-based partner, CONNECTAS;
Eligibility
Applicant should possess a Bachelor's degree from an accredited academic institution;
7-10 years of work experience in the media industry in Haiti, which could include journalism, research, communications, academia, NGO, or other related field;
Past experience producing research a plus;
Good understanding of the media sector in Haiti and connections with media professionals in the country;
Working bilingual capability in French and either English or Spanish.
Application
Applicants should apply by filling out this form. Only complete applications will be considered.
For more information, visit ICFJ.