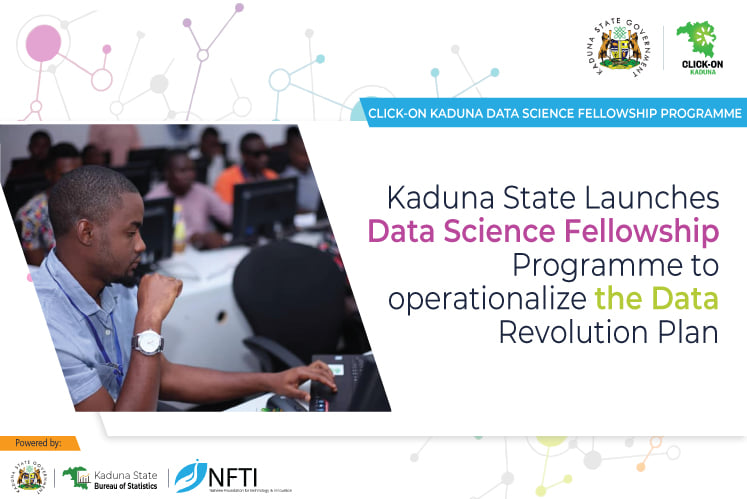 KDSG Click-on Kaduna Data Science Fellowship Programme 2020 (Stipend available)
Deadline: August 31, 2020
Applications are open for the KDSG Click-on Kaduna Data Science Fellowship Programme 2020. The Data Science Fellowship Programme is part of the Kaduna State's Data Revolution Plan aimed at strengthening the coordination in the collection and use of data for evidence based decision making.
The Data Lab Project is jointly implemented by the Kaduna State Government, Bill and Melinda Gates Foundation and Natview Foundation for Technology Innovation.
Programme Details
The Data Science Fellowship Programme over the period of 5 years, would be building the capacity of 100 youths in a cohort of 25 persons each year on Data Science and the use of modern tools in decision making. The 6-months programme with a focus on the health sector would have 3-months intensive training in a classroom learning environment and a 3-months paid internship; where participants would have an opportunity to work closely within the Amina J. Mohammed SDGs Data Lab under the Kaduna State Bureau of Statistics.
As part of the State's commitment to improving the use of evidence for decision making, the State over the period of the 5 years would be employing 25 participants to join the State Civil Service in supporting its vision.
Benefits
Participants of the programme will benefit from the following:
A chance to upgrade their skills and develop a career in the most sought after industry in the world.
An opportunity to work with a team of public policy experts, Data Analysts to contribute to development planning, public policy, and use of data for evidence based decision making in the Health Sector.
6 months fully paid internship programme with industry leaders and stakeholders within the health sector.
Model data using Artificial Intelligence and Machine Learning tools within the Amina J. Mohammed SDGs Data Lab.
Build a sustainable network within the Data Science Ecosystem.
Fellows will have a monthly 6 months Stipends for the duration of the programme which consists of both On-Class and On Field Activity.
Eligibility
Applicants should be between 18 years to 35 years except for exceptional cases;
The State of residence must be in Kaduna State of Nigeria;
Be a graduate of tertiary Institutions in any of the STEMS courses particularly: Statistics, Mathematics, Computer Science, Engineering, Economics, Physical Sciences, and any other health related discipline. Undergraduates within the STEM fields identified who are doing their 6months to 1 year Internships are also encouraged to apply.
They are looking for people with the following skills:

Basic Computer Knowledge
Basic Knowledge around using Data & Understanding of Microsoft Excel
Problem Solving Skills
Communication Skills (Written and Verbal English)

50% gender balancing and distribution will be considered during selection process.
Application
Step 1: Fill and Submit the application form
Step 2: You will receive an email with an activation link
Step 3: Click the activation link to activate your profile
Step 4: Create a new password then Login to your profile
Step 5: Write an easy of not more than 250 words. Why you should be selected for the programme, and upload a valid means of identification (i.e Voters card, National ID Card, Driver's License or International Passport) NB: Image type should be .jpg
Step 6: You will get a confirmation status of your application
Step 7: If successful, then you will be contacted to take a Computer Based Test
Step 8: If successful, then you will be contacted to upload a video introducing yourself, stating why you applied and why you should be accepted into the programme.
Step 9: If successful, then you will be contacted to attend a One on One Interview with the Selection Panel.
Step 10: Join the Pioneer Cohort for the Fellowship Programme
For more information, visit Click-on Kaduna Data Science Fellowship.