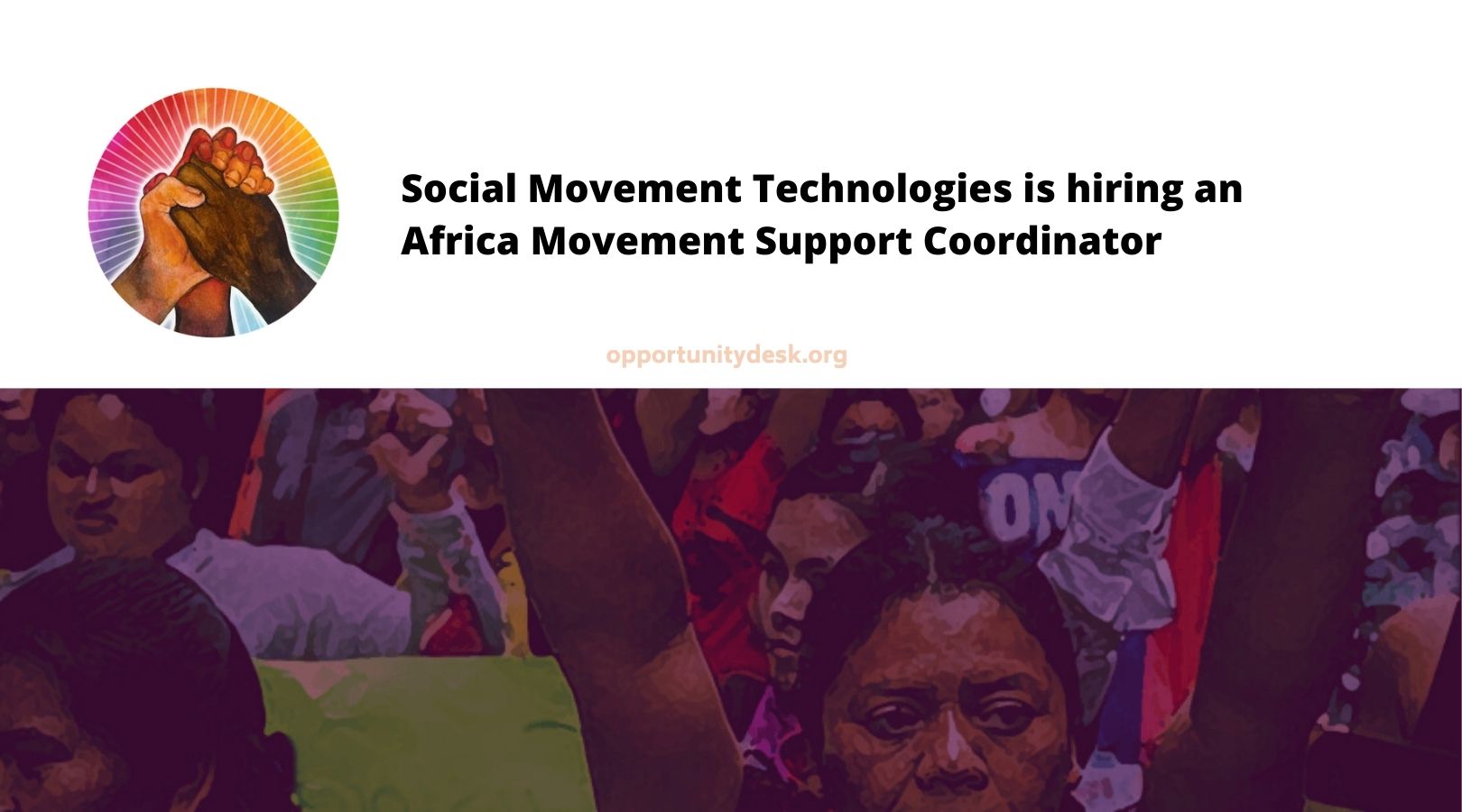 Hot Job: Social Movement Technologies is hiring an Africa Movement Support Coordinator (Full Time, Remote)
Deadline: Rolling until filled (apply ASAP)
Social Movement Technologies is hiring for an interesting new role of Africa Movement Support Coordinator. Social Movement Technologies is a 100% remote organization. For this Pan African post you must be located on the African continent. 
Social Movement Technologies' mission is to provide organizing strategy, training and campaign support to build people-power for justice and win in the digital age. They are a non-profit/NGO movement support group, driven 100% to meet movement needs. They are super lean – they do lots with little, just like most of the groups they work with.
SMT's small but highly effective team has trained staff from over 2400 groups and unions over its first seven years, and worked with 100+ groups on campaigns more in-depth.
SMT provides the in-depth digital campaign training that staff and activists need in the digital age. Their goal is to expand access by driving down the cost of this training and provide excellent online learning experiences to dramatically deepen digital organizing proficiency. Their focus is on using digital campaigning to amplify in-person action, broaden support, activate supporters, and pressure targets. Their bias is towards meeting the needs of small to medium-size groups.
Job Details
Location is remote, flexible across Africa, not just South Africa
$3200 – $3800/mo, varies by location and experience level
Full time
Responsibilities
Develop new online training to meet movement needs across Africa
Build an instructor team of practitioners from across the continent and help to shape and do outreach for the training
Provide a range of campaign strategy and implementation support for partner groups
Build and maintain relationships with a range of organizing networks
Keep your fingers on the pulse of new tech and digital developments in the enormous diversity of the African context, testing out tools and comparing them so that SMT can help African groups sift through the options and make choices appropriate to context
Eligibility
Required: You're fluent in written and spoken English – ideally, bilingual in French!
You have a minimum of 5 years of relevant campaign experience, in which you held high-level responsibility that included digital campaigning.
You have a knack for campaigning and understand what it takes to make a difference, including how to build power on the issue, who we need with us, messaging that will move people, and the steps to get you there.
You have broad experience in running issue campaigns, for example doing your own memes with a sense for design and messaging, or setting up Facebook ad campaigns – not relying on other staffers for creative or ad setup. You've worked as part of smaller and not just larger teams.
You have worked at a sub-regional or regional level on the African continent, and are able to navigate the complexities of language, sub-regional affinities, and power blocs.
You have experience with coaching and training people.
You have management and organizational skills that enable you to keep a number of projects on track and delegate to other members of our team and contractors.
You have previous experience working remotely, are highly self-motivated and need to be doing work that involves constant learning.
You have experience running campaigns at the grassroots, national and/or sub-regional/regional levels in Africa.
You speak and write English, as a non negotiable, but ideally speak French and/ or one of the dominant regional languages, such as Swahili.
This job is for you if…
You're super driven and ambitious about building people-power movements for justice, including movements for women's rights and for climate action and justice; you have deep experience with both online and offline campaigning in Africa; you think strategically, enjoy coaching, work really well with people; you're creative and hungry to see change happen; and you're nimble at finding ways to meet needs and shape solutions.
You can manage teams and you also are excellent at running an online/offline campaign and its component pieces yourself.
This is a senior position, for someone who wants to invest deeply and take leadership in the organization's work and be in the trenches working on campaigns too.
Application
To apply:
Let them know where you heard about the job (mention Opportunity Desk).
Tell them about your relevant experience.
Share your resume, samples of your online campaign work, and a list of the online tools and platforms in which you have proficiency. This app only allows one document upload, so please include your list of tools at the end of your cover letter. If you have other work you'd like to share, include a link to a folder of your campaign work or other documents at the bottom of your cover letter.
A later step in the process will include a timed live exercise.
References will be required.
You should have an extensive list of digital tools and tactics with which you work, and campaign collateral and narrative. Please don't take the time to apply if you are not at this level. 
For more information, visit Social Movement Technologies.