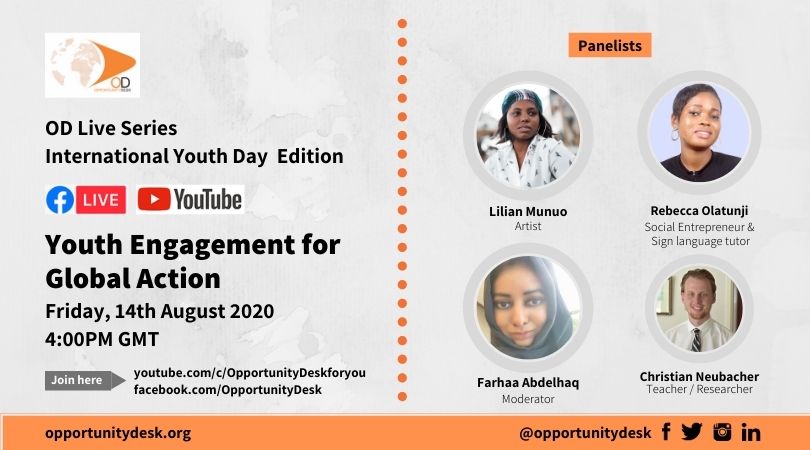 OD Live Panel on Youth Engagement for Global Action – August 14, 2020
You're invited to join OD Live Panel on Youth Engagement for Global Action– August 14, 2020.
Young people are at the forefront of development in the world today. And this year's International Youth Day theme: Youth Engagement for Global Action seeks to highlight the ways in which the engagement of young people at the local, national and global levels is enriching national and multilateral institutions and processes; as well as draw lessons on how their representation and engagement in formal institutional politics can be significantly enhanced.
In the same spirit,  we are hosting a live session with awesome young changemakers – Lilian, Christian and Rebecca – from across the world. They will discuss their work, and share insights on the role of youth in achieving vision 2030.
Join us in this engaging live session and come prepared with any questions you might have regarding young people's role in achieving the SDGs.
The #ODLive series is part of our efforts to empower our users with the right knowledge and tips they need to grow and succeed in their businesses, projects, and applications for global opportunities.

About the Speakers:
CHRISTIAN NEUBACHER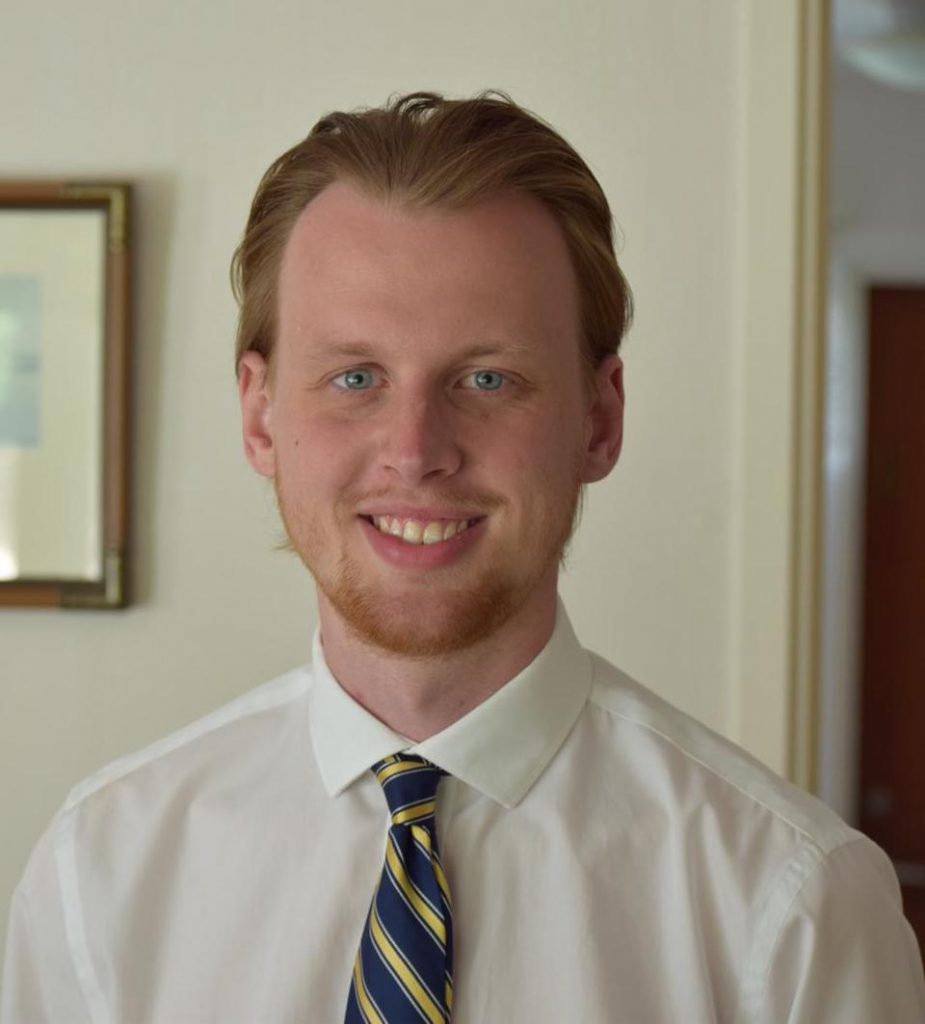 Christian Neubacher is a Swedish-American teacher, researcher, and aspiring policymaker who is passionate about developing policies and private-sector solutions which can help further regional integration, transatlantic solidarity, and sustainable global development. With prior experience serving as the Deputy Executive Director of European Horizons, he strongly believes that youth can play an integral role in shaping the post-Pandemic future.

Christian obtained his Bachelor's degree in Economics and International Studies at the University of Michigan and also has experience working for the European Banking Federation and as a teacher in Falköping, Sweden. Currently he is participating in Opportunity Desk's Mentorship Programme and will be pursuing an MA European History, Politics, and Society at Columbia University in the Fall.
REBECCA OLATUNJI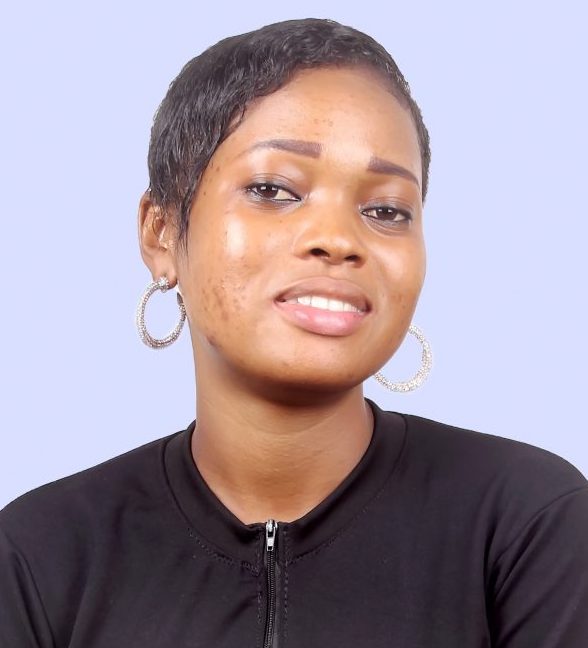 Rebecca is a social entrepreneur, sign language interpreter/ tutor and a former classroom teacher. She is the Founder of CODAH Enterprise, where she works to promote the linguistic identity of the deaf community, promote their culture, and foster their inclusion in the society.
Rebecca Olatunji holds a National Diploma in Textile Technology from Yaba College of Technology, Yaba; and she is currently pursuing her Bachelor's Degree in Community and Public Health at The University of the People, USA. Rebecca emerged the second place winner of the 2019 Opportunity Desk Impact Challenge!
FARHAA ABDELHAQ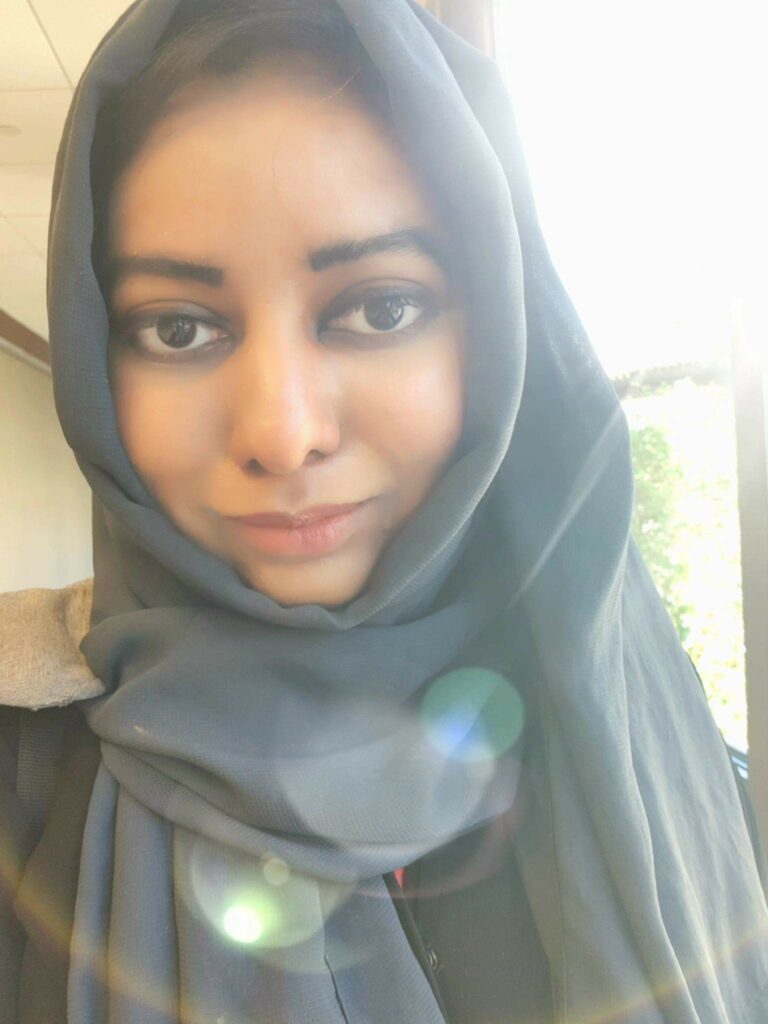 Farhaa has a passion for health-tech, fin-tech and everything that involves data and visual communication for greater good. She started her career as a business data journalist and has been moderator/speaker with working experience at Newsweek, Financial Times Group, Argaam, LovinSaudi. She has moderated numerous conferences and has almost covered all breaking business news in Saudi for the last few years.
She is the partner of a start up that aims to re-shape MENA region's journalism education and prepare journalists for 21st century newsroom. She has been a fellow of a Stanford University Program and Community Champion for Empower Women, UN-women platform.
LILIAN MUNUO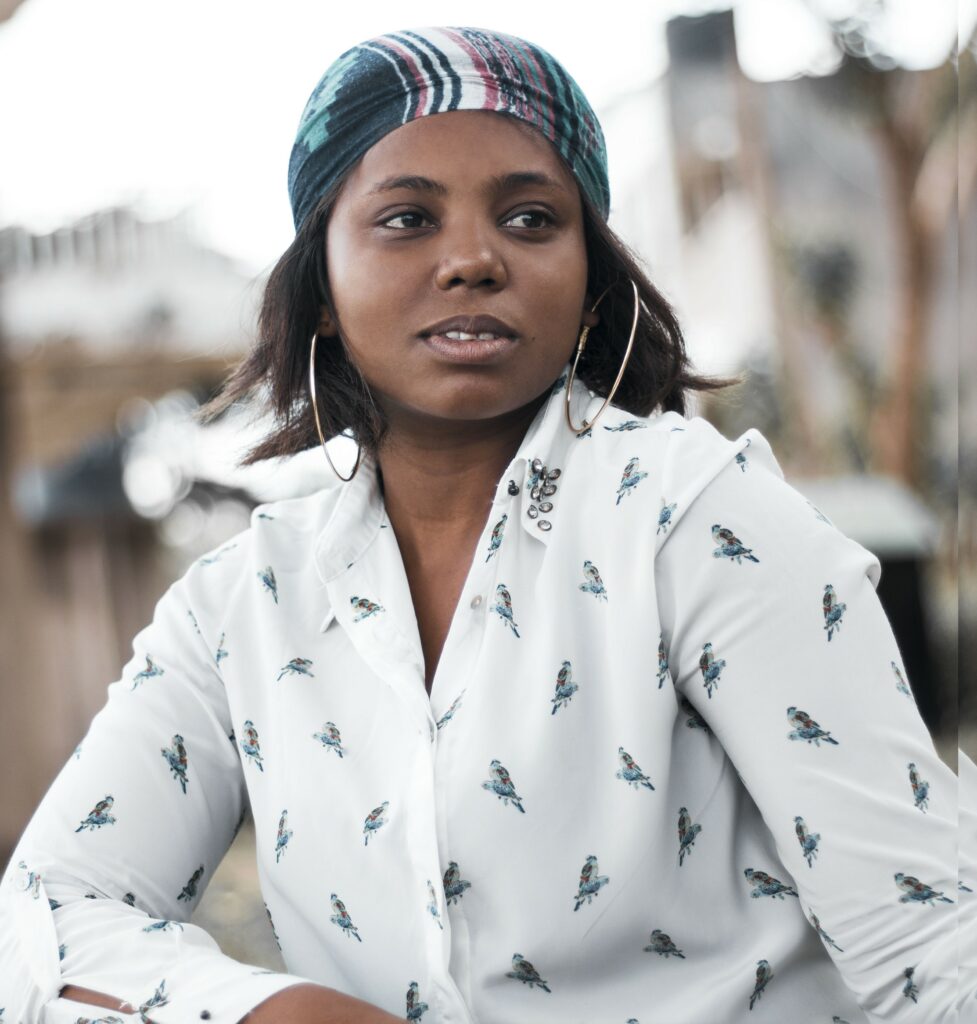 Lilian Munuo is a self-taught artist and creative. She does pencil art, charcoal art and string art which she regularly posts on her Instagram page, @hettie_lillie. For her, art is a motivational ground and learning arena. Lilian holds a Diploma in Finance and Banking from Institute of Accountancy, Arusha, Tanzania.
Lilian was the OD Young Person of the Month for August 2020.
Event Details
Date: Friday, 14th August 2020
Time: 4:00pm GMT / 12:00pm EST

How to Join the Livestream
No registration required, just click the link below and show up!
Join via Opportunity Desk's Facebook Page or YouTube Channel.

About Opportunity Desk

Established in 2012, Opportunity Desk (OD) is the largest digital media platform that bridges the gap to education by sharing information on relevant learning and growth opportunities for youth around the world. These opportunities help to facilitate young people's efforts in exchanging ideas and preparing themselves for the future.

Follow OD to stay up to date: