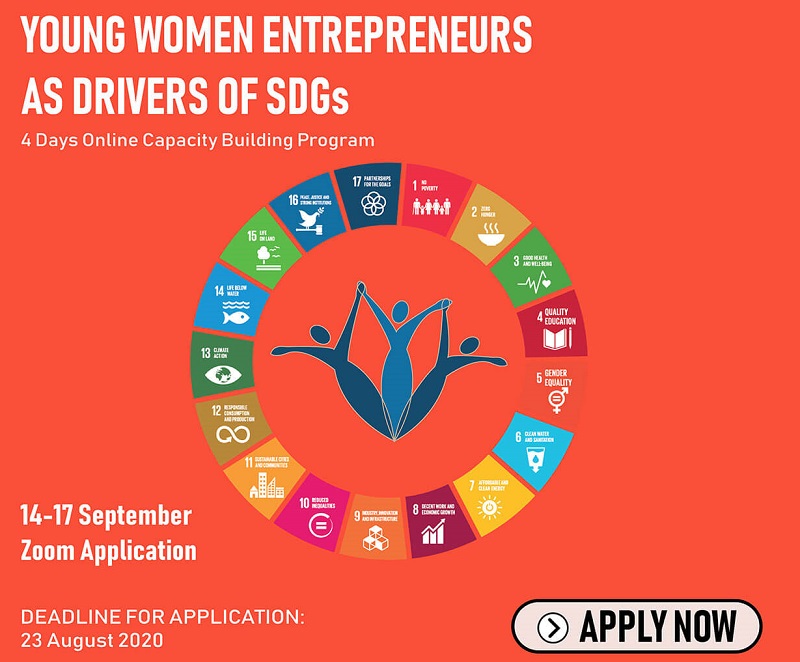 Call for Applications: Young Women Entrepreneurs as Drivers of SDGs Online Capacity Building Program 2020
Deadline: August 23, 2020
Applications for the Young Women Entrepreneurs as Drivers of SDGs Online Capacity Building Program 2020 are now open. The Islamic Cooperation Youth Forum will be holding the Young Women Entrepreneurs as Drivers of SDGs, 4 Day Online Program jointly organized with the UNIDO Investment and Technology Promotion Office in Manama, the Kingdom of Bahrain, OIC institutions and international institutions, from September 14 to 17, 2020.
The program serves as a platform to address the vital role of young women entrepreneurs in driving growth and SDG. It also highlights the key role of institutions in enhancing opportunities and further strengthening cooperation with regards to further boosting women's entrepreneurial opportunities. The program entails a special focus on the role of young entrepreneurs as core benefactors, and benefactresses within sustainable development schemes.
The objectives of the program are:
Sharing good practices on infrastructures and ecosystems.
Highlighting institutional efforts and initiatives for young women entrepreneurs.
Encouraging policy trends on sustainable growth of female entrepreneurial inclusion.
Developing the skills, capacities, and confidence of young women entrepreneurs.
Addressing key points related to the infrastructure and echo systems for women economic empowerment for sustainable development.
Highlighting financing and microfinancing young women entrepreneurs' initiatives, explore current conditions, problems and challenges encountering women's roles in and contributions to sustainable development of their communities.
Promoting women's best practices, successful experiences and policy models pertaining to the course of sustainable development.
Eligibility
Young Women Entrepreneurs as Drivers of SDGs Program is open for all countries especially from OIC member states;
Have the ability to communicate in English;
Aged between 18–35;
Commitment to attend the full course of the Online YWE As Drivers of SDGs.
Application
Selected participants will receive an email confirmation with online program details. Due to a limited timing, there will be no opportunity to inform those who were not selected. The general information on selection results will be posted at ICYF and Social Media accounts.
For more information, visit ICYF.