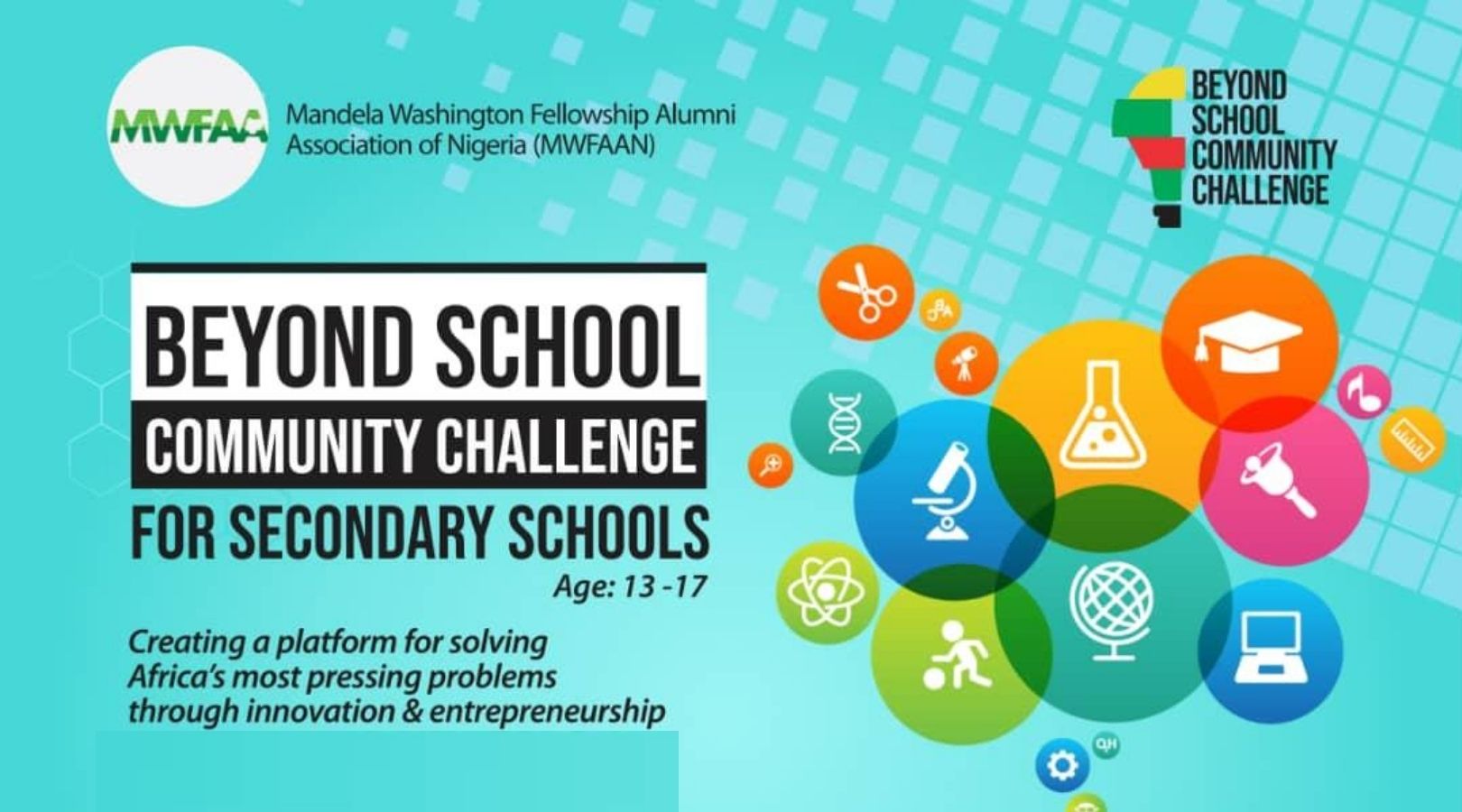 MWFAAN Beyond School Community Challenge 2020 for Nigerian Secondary School Students (Up to N1 million in Cash Prizes)
Deadline: September 26, 2020
The Mandela Washington Fellowship Alumni Association of Nigeria (MWFAAN) in collaboration with United States Mission, Nigeria invites applications for 2020 Beyond School Community (BSC) Challenge for secondary school students in Nigeria. This is a flagship initiative of MWFAAN aimed at developing entrepreneurial mindsets of young people between 13-17 who are predominantly in both public and private secondary schools across Nigeria.
The 2020 BSC Challenge, which is a virtual and STEM-based hackathon on solutions to help Nigerian communities survive the COVID-19 pandemic, will have topics from case studies on Medicine/ Health and Wellness, Education, Agriculture, Women and Girls' Development, Entrepreneurship, and Sports for communities during the COVID-19 pandemic. The challenge would be judged within the ambit of social and business solutions for the COVID 19 pandemic.
The objective of the hackathon amongst other things is to identify viable technology-based entrepreneurship concepts/pilot ideas emanating from students aged 13 – 17. Successful applications addressing the challenges in the COVID-19 and post- COVID era will receive support through funding and mentorship.
The Challenge identifies top finalists annually from the pool of applications received across Nigeria, where selected finalists will be invited to pitch and exhibit their entrepreneurial ideas at the virtual National Youth Leaders' Summit.
Benefits
National winning teams are awarded prizes in form of project and educational grants, Teacher/Mentor Prizes as well as certificates of recognition for both teams and their schools/educational institutions.
Seed funding for teams will be provided for the top three winning teams as follows:
First Prize – N350,000
Second Prize – N250,000
Third Prize – N150,000
4th-10th positions – Certificates of Recognition
A one week Hackathon would take place for all 20 teams, and the 10 shortlisted teams would be invited for an elevator pitch, exhibition and voting process by the audience at the virtual Summit with 3 Top Teams/Finalists emerging as winners.
Eligibility
Applicants must be a team of 4 consisting of 3 young people between the ages of 13-17years and a Teacher/Mentor, aged 20 years and above.
All Teams, schools or Educational Institutions must be based in Nigeria
Applicants must have access to strong and reliable internet.
Applicants must be willing to grant both print and electronic media interviews if selected. Each school is to submit just one application as a team. Multiple entries from one school will be disqualified. One school: one team.
Application
Applications would be received by Teams via e-forms to promote inclusiveness for both schools and other educational institutions.
Applications would be judged within the ambit of social and business solutions for the COVID 19 pandemic.
Top 20 Teams/Applications would be selected by the review selection committee for further review. To ascertain the authenticity of every application process, there shall be coordinated phone conversations, live interview via zoom for every team shortlisted for the hackathon.
Interested teams of students and their mentors should fill the form online. Ensure you click on Submit after filling the form.
Due to exigencies surrounding secondary education in Nigeria, the organizing team is offering an extension of two (2) weeks to interested applicants. This means teenagers working on projects that can help their communities cope with the impact of COVID-19 can apply up till September 26, 2020.
For more information, visit MWFAAN.