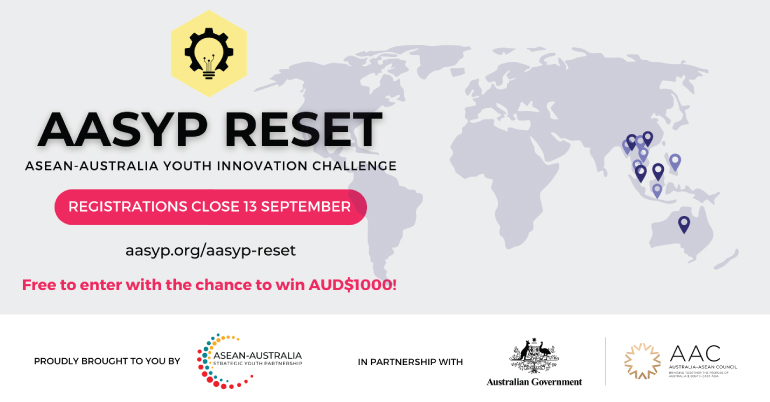 AASYP Reset: ASEAN-Australia Youth Innovation Challenge 2020
Deadline: September 13, 2020
Applications are open for the AASYP Reset: ASEAN-Australia Youth Innovation Challenge 2020. AASYP Reset is a virtual innovation challenge inviting recent graduates, current university students and young professionals of all disciplines across ASEAN and Australia to collaborate on projects that foster stronger people to people connections between youth in the region.
AASYP Reset provides an opportunity for youth to develop their entrepreneurial capacity, build personal and professional connections and showcase their creativity and innovation to a diverse public audience.
Challenge Question: How might we develop stronger people to people relations between youth across ASEAN and Australia?
Challenge Details
AASYP Reset consists of an online skills module, a sprint weekend and a final pitch event and will take place virtually in September and October 2020. The online skills module aims to provide participants with a foundational understanding of key design thinking methodologies.
Working in a team of between two to four people, registered participants will conduct research, apply design thinking approaches and reimagine new possibilities to enhance people to people relations between youth across Australia and the ASEAN region.
Prizes
The winning team, as selected by the judging panel during the final pitch event, will receive $1000 AUD to support the implementation of their project.
The People's Choice Winner will be determined through a live public voting process during the final pitch event, and will receive $750 AUD to support the implementation of their project.
Eligibility
Open to all Australian and ASEAN nationals aged 18-29.
They are looking for a diverse range of participants who are interested in developing their cross-cultural competencies and are passionate about strengthening people to people relations.
They strongly encourage recent graduates, current students or young professionals or entrepreneurs in the early stages of your journey to get involved.
There is no cost to participate.
Application
The deadline for registration is September 13, 2020. Late registration will not be considered.
For more information, visit AASYP Reset.