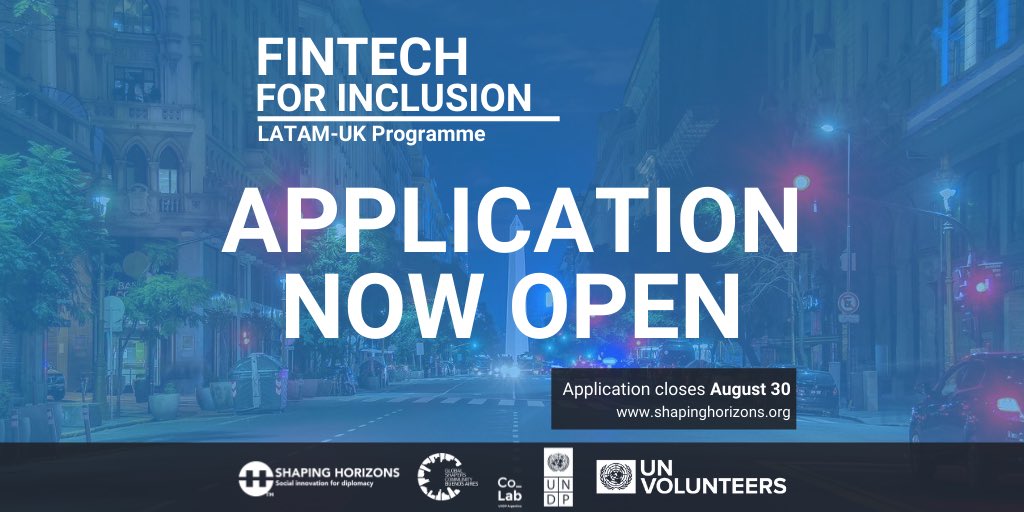 Shaping Horizons FinTech for Inclusion Latam-UK Programme 2020-2021
Deadline: August 30, 2020
Applications are invited for the Shaping Horizons FinTech for Inclusion Latam-UK Programme 2020-2021. Fintech for Inclusion aims to advance financial inclusion in Latin America and the United Kingdom by creating synergies between both regions.
Financial technology, or simply fintech, is the use of innovative technologies to deliver financial services. The fintech sector has opened the pathway for innovation to create new financial services within the context of the fourth industrial revolution. The growing opportunity for fintech to help financial inclusion led Shaping Horizons to adopt it as the focus of its work in 2020-2021.
Fintech for Inclusion is a three-stage open innovation process designed by Shaping Horizons to ignite projects and promote international collaboration.
Benefits
Teams that successfully complete the ideation stage (either in person or digitally), will be eligible for non-equity financing while they implement and advance their projects. Up to £25,000 will be distributed among teams.
Moreover, an equivalent of £10,000 will be further distributed among the best team/s to cover training activities, with expenses covered, at the University of Cambridge. At this stage, Shaping Horizons will also facilitate scalability and provide tools for measuring social impact.
Categories
The programme will focus on the following key strategic areas:
Loans and Microcredits: solutions that aim to increase the financial resources of those who need it to maintain their activities or livelihoods. Some recent examples include: micro-credits, crowdlending, and many more.
Savings and Investments: solutions that aim to increase the financial resources of people and/or organizations. Some recent examples include: fixed-term savings, crowdfunding, stocks, and many more.
Payment methods: solutions for people and/or organizations that allow the exchange of goods. Some examples include: credit cards, pins, QR codes, facial recognition, fingerprints, and many more.
Financial Education: teaching or assisting, through consulting for personal or enterprise purposes, are what they imagine when they talk about financial education.
Eligibility
Applicant should have experience in fintech or financial inclusion.
More than one year of experience working in either LatAm or the UK in one of the following Fintech categories: Lending, Payments, Savings and Financial Education.
Be between 20 to 32 years old.
Needs to have lived in at least one of the following regions during the past three years: LatAm, the Caribbean, and/or the UK.
Open to diverse roles and sectors: from employing technical skills in the workplace to being involved in Latin America and/or the UK's social and economic development; private/public sectors; academia and/or NGOs.
Advanced English.
Values collaborative work, believes in innovation through collaboration and alliances, and has a good track record as a team player.
Can analyse problems from a critical, integrative point of view; can suggest concrete solutions and/or has already implemented them; shows ambition to improve/grow, with ideas as to how.
Application
The application form will take approximately 45 minutes to complete. The form saves your progress every time you go to a new page. You may go back and edit your answers at any time.
For more information, see the FAQs and visit FinTech for Inclusion.