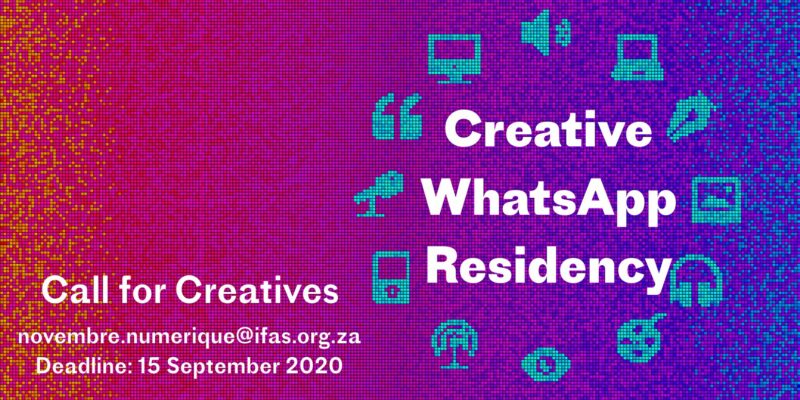 French Institute of South Africa (IFAS) Creative WhatsApp Residency 2020
Deadline: September 15, 2020
Are you an artist? A movie director? A sound engineer? A crazy geek? Or just a creative mind? Are you ready to experiment and collaborate on a multidisciplinary project? Apply for the French Institute of South Africa (IFAS) Creative WhatsApp Residency 2020.
IFAS is looking for artists from the audio and/or visual fields (cinema, theatre, animation, digital, music&sound, visual arts, spoken words etc…) as well as digital creatives (programmer, geeks etc…) to enter its first artistic residency in new media. The team of creatives will work during the month of October under the mentoring of French multimedia production experts, to give life to the story of a South African writer. Their collaboration, mixing various fields, will allow to illustrate, animate and give voice to an original story, using WhatsApp as a medium and creative tool, and will lead to the creation of a "WhatsApp book".
Benefits
The residency covers:
residency allowance of 5,000 ZAR
data bundles
The WhatsApp Book will be presented to the public in November 2020 during the Novembre Numérique programme.
Eligibility
Applicants should:
be English-speaking;
be South-African citizens or permanent residents;
be willing to work with digital mediums;
open to collaboration and mentorship;
be available to develop the project during the month of October 2020.
Due to the COVID-19 crisis, this collaborative residency will happen remotely and therefore participants from any region of South Africa can participate.
Application
Applicants must submit:
A maximum one-page cover letter;
A CV;
A portfolio or any links to previous work and project the applicant has been part of.
Send all the documents to [email protected] with "WhatsApp Residency" as the subject.
For more information, visit French Institute of South Africa.