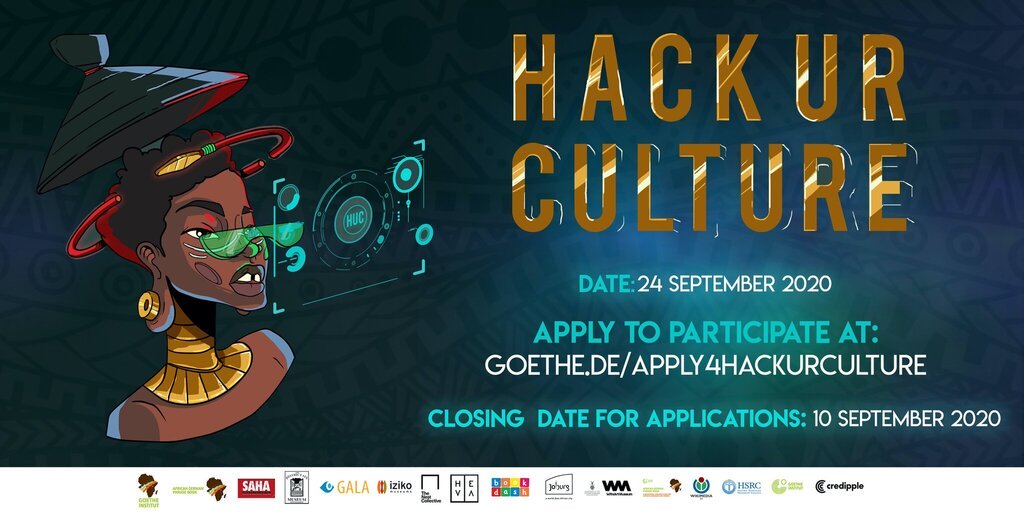 Call for Applications: Goethe-Institut Hack Ur Culture – Hackathon 2020
Deadline: September 10, 2020
Calling all creative and tech pioneers to participate in Hack Ur Culture – a cultural heritage hackathon to shape the future of African GLAM institutions!
"Hack-Ur-Culture" is a virtual platform that brings together GLAM institutions (Galleries, Libraries, Archives, Museums) with creative minds and tech enthusiasts to bring about collaborations and innovations deriving from open cultural data.
Background
In 2020, GLAM institutions have been severely hurt by the COVID-19 pandemic losing their audiences since the start of the lockdown. This extended period without foot traffic through their doors has forced GLAM institutions to consider what a virtual future looks like.
This is an opportunity for brave young minds to lead in the development of innovative solutions that will be used by some of the continents most reputable GLAM institutions.
As we begin taking the first steps to recover from the Covid-19 pandemic we are all responsible for building a new normal that will shape our future. With digital experiences and a shared economy at the heart of that, how can cultural heritage data be made more open and accessible to all.
How can African cultural heritage be brought to the forefront of virtual experiences?
Prizes
The winning team earns a spot to participate in the Coding Da Vinci hackathon taking place in Germany in 2021 (April or August, depending on International travel restrictions).
Additionally, there will be supporting awards for impressive projects that will receive exciting cash/product prizes to be announced in the coming weeks.
The winning teams will have their projects featured at the 2020 Fak'ugesi Festival's Virtual African Heritage & Technology Exhibition.
Eligibility
You must be over the age of 18
You must come from Sub Saharan Africa
You should be fluent in english as that will be the presentation and written submission language for Hack Ur Culture
You should have stable access to the internet as the entire hackathon will be taking place virtually
Application
The hackathon is kicking off on Heritage day, September 24, 2020. The hackathon will run for a period of 3 weeks with final project submissions due on Sunday, October 18, 2020 at 23:59. There will be a virtual prize-giving to announce the winners on a date to be announced.
Complete the application form and you will hear from the organising team if your team application is successful.
For more information, see FAQs and visit Goethe.