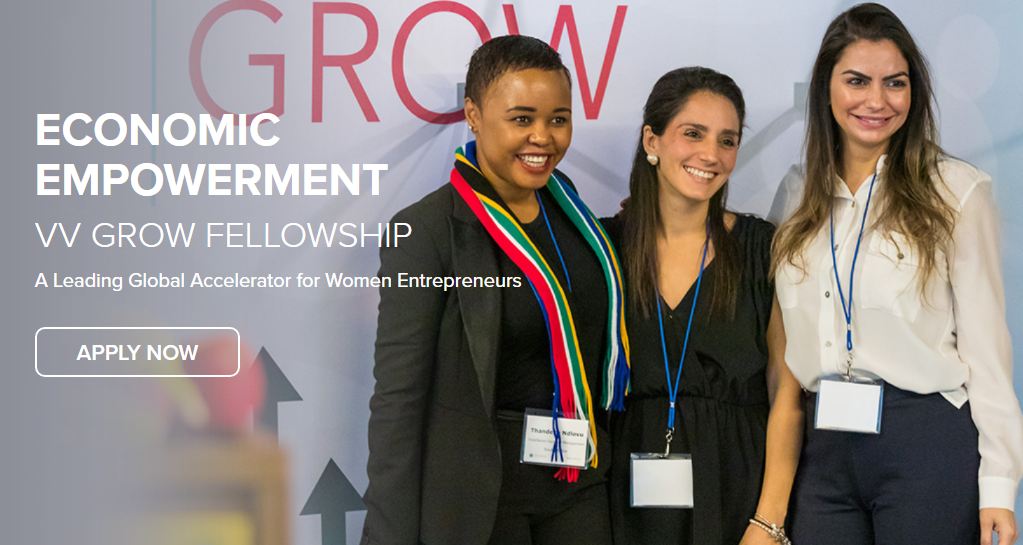 Vital Voices (VV) GROW Fellowship 2021 for Women Entrepreneurs (Scholarship available)
Deadline: December 15, 2020
Applications are open for the Vital Voices (VV) GROW Fellowship 2021. The Vital Voices GROW Fellowship is a leading global accelerator program for women owners of small and medium-sized businesses. The program provides customized business skills training, leadership development, technical assistance, and access to networks and connections.
Through online trainings, fellows focus on long-term business strategy paired with action-oriented strategic plans to grow their businesses. They amplify their roles as leaders in their businesses and their communities creating jobs, stimulating economic growth and producing wider social benefits.
Through the program, participants gain knowledge and skills in strategic planning, financial management, marketing & sales, strategic networking, leadership, human resources and communications. They receive valuable technical assistance and support, and become members of a valuable global network of women business owners and the broader Vital Voices network of more than 18,000 of women leaders around the world.
Cost and Scholarship
There is a participation fee of US $1,500. Note: The fee can be paid in installments on a schedule provided by Vital Voices.
A limited number of need and merit-based scholarships will be available. Details will be provided in the notifications of acceptance into the program. If you are interested in being considered for a scholarship, please note that within the application.
Fellows commit to:
Dedicate 2-7 hours per week (January – December 2021) for webinars, homework assignments and phone calls
Attend the entire 3-day virtual convening in summer 2021 (date TBD)
Submit surveys and participate in phone calls with Vital Voices
Eligibility
Open to women entrepreneurs or social entrepreneurs who:
Own a qualifying business that

Have been operating this business for at least 3 years
Employs at least 3 full time staff including the applicant (or the equivalent of 3 full time staff in part time staff)
Generates at least US $40,000 in annual sales

Are proficient in spoken and written English
Have demonstrated leadership, key decision-making authority within their business and manage the business on an ongoing basis
Have a commitment toward making positive social impact and an interest in expanding their social impact
If you are involved in more than one business, the above criteria must apply to the business that you would like to focus on during the fellowship.
Application
Applications will be considered on a rolling basis until December 15, 2020, or until all participants are selected.
This application will take approximately between 60 to 90 minutes to complete. You can save your answers and return to the application at any time. To do this, click the "Save and Continue Later" box that appears at the top right corner of the application in each section and provide your email address. You will then receive an email with a personal link that you can use to return to your application.
For more information, visit Vital Voices.