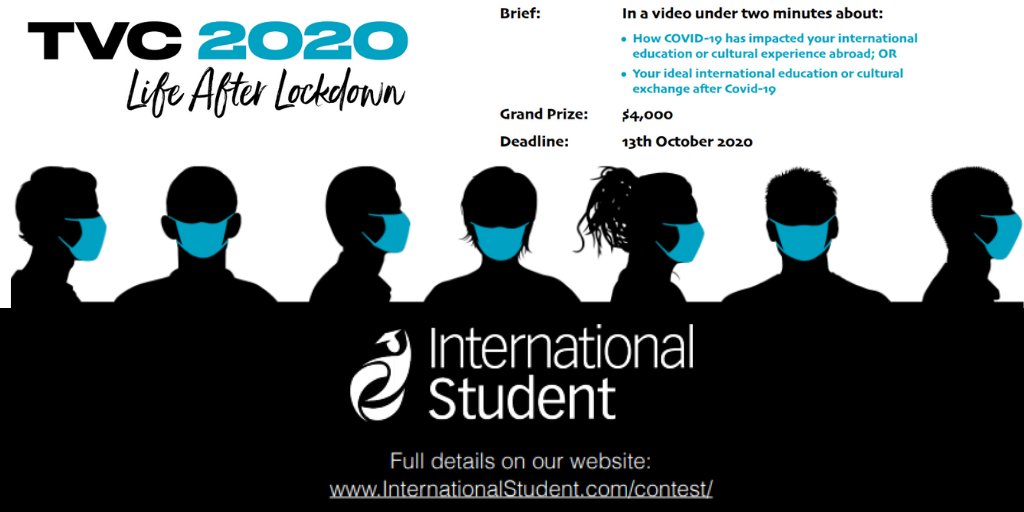 International Student Travel Video Contest 2020: Life After Lockdown ($4,000 prize)
Deadline: October 13, 2020
Entries are invited for the International Student Travel Video Contest 2020: Life After Lockdown. For the many students and global exchange participants aching to once again travel, this is the year for you to enter this contest.
For this year's contest, they are asking you to create a video that is two minutes or less in length and discusses one or both of the following themes:
How COVID-19 has impacted your international education or cultural exchange experience abroad.
Your ideal international education or cultural exchange after COVID-19.
The vision of InternationalStudent.com is to be the company that best recognizes and serves the needs of international students around the world. They strive to provide students world-class resources to help them investigate and pursue an international education, through relevant content, custom online tools and engaging websites that offer only best in class products and services.
Prizes
First Place Winner: $4,000
Second Place Winner: $500
Third Place Winner: $250
Viewers' Choice Award Winner: $1,000
Eligibility
You must be 18 or older.
Currently be an international student or on an exchange program, or had your international student education or on exchange program interrupted, or have a future international student journey or exchange program.
Your video must be created specifically for the current contest.
The maximum length for your video is 2 minutes. There is no minimum length.
Your video must be uploaded to one of the following 3 platforms: YouTube, Vimeo or DailyMotion.
Application
The InternationalStudent.com Travel Video Contest is open for new entries between September 1, 2020 and October 13, 2020. To enter the contest during those dates, follow each application step after creating your video that is 2 minutes or less in length.
For more information, visit Travel Video Contest.