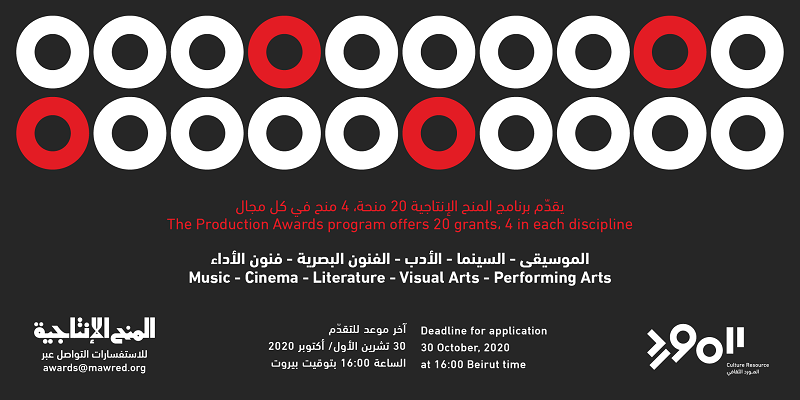 Culture Resource Production Awards Program 2020 for Artists and Writers from the Arab Region (up to $25,000)
Deadline: October 30, 2020
Applications are open for the Culture Resource Production Awards Program 2020. The Production Awards program aims to support and encourage the artistic and literary productivity and creativity of a new generation of young artists and writers from the Arab region.
Grants are available for the following disciplines:
Performing arts: Development and production of theater, dance and other performing arts works.
Visual arts: Production and organization of visual arts exhibitions, installations, and art books.
Literature: Creation and publication of novels, shorts stories, poetry collections and theater texts.
Music: Creation and recording of audio and audiovisual music works.
Cinema/video: Production of short, medium-length and feature fictional, documentary, animated and
experimental films and videos works.
Grants
Grants of up to $10,000 are available for projects in literature, music, performing arts and visual arts and of up to $15,000 for projects in cinema and video.
Eligibility
Applicants must be between 15 and 35 years old as of January 1, 2018. Applications submitted by individuals not in this age bracket will be discarded;
Applicants must originate from an Arab country regardless of ethnicity and citizenship status or whether they are currently residing in the Arab region or abroad;
Application is open to artists of all disciplines: Performance arts, visual arts, literature, music, cinema/video, etc.
Application
Applicants are to read the application guidelines carefully before completing the application form.
Please follow the following steps in order to create an account and register on the online applications platform:
Enter the online applications site and fill in the required registration information.
After clicking the "register" icon, you will receive a link by email. Click on the link to activate your account.
Once you activated your account, you can re-enter the online application platform using your email address and password. You will then find the application form which you can fill out online.
For more information, visit Culture Resource.