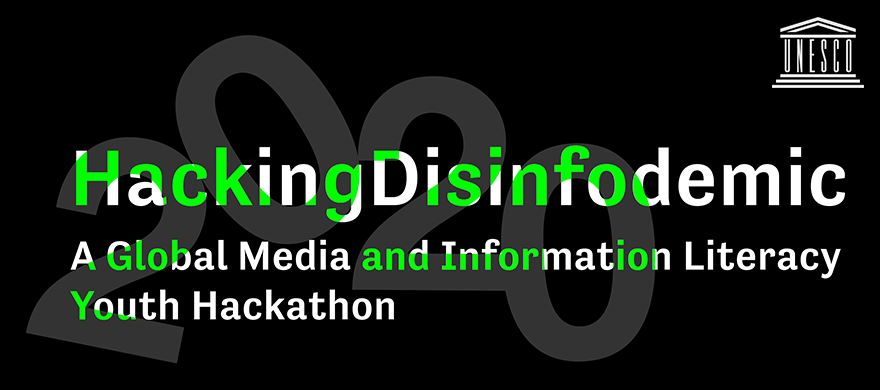 UNESCO HackingDisinfodemic 2020: Global Media and Information Literacy Youth Hackathon
Deadline: October 12, 2020
Applications are open for the UNESCO HackingDisinfodemic 2020: Global Media and Information Literacy Youth Hackathon. UNESCO and partners are calling on youth worldwide to participate in this four-week virtual hackathon to design innovative solutions to disinfodemic and related online challenges.
COVID-19 has confronted the world with a new wave of disinformation. Media and information literate youth have a pivotal role to play to resolve this challenge. HackingDisinfodemic is a global competition on MIL targeting youth, organized in the framework of Global MIL Week 2020, which will be commemorated from 24 to 31 October, under the theme of "Resisting Disinfodemic: Media and Information Literacy for Everyone and by Everyone".
The Hackathon will follow the theme of MIL against disinfodemic. It complements the mainstreaming of young men and women in the Global MIL Week In-Focus Sessions by enabling more significant youth leadership. Youth from local schools, universities, youth centres and youth organizations, as well as youth leaders from around the globe, are invited to participate. The winning teams and the outcome of the Hackathon will be presented during a dedicated online Press Conference on October 27, 2020.
Tasks and Challenges
Design innovative and creative solutions to one of the three challenges below:
Media and information literacy to counter the COVID-19 disinfodemic.
Media and information literacy to fight discrimination.
Media and information literacy to combat online privacy and data protection infringements.
Solution Categories
Game
Application/Website
Radio programme/Podcast
Creative community-based intervention (non-technology focused)
Prizes
Winning teams will gain
Opportunity to pre-launch the projects globally during an online press conference.
Interviews with potential donors and partners.
Invitation to UNESCO's Global MIL Week 2021 Feature Events.
Two-day mentoring offered by a team of world-class MIL and game experts.
A participation certificate from UNESCO and the Republic of Korea.
Recognition through a UNESCO press release and various channels.
Eligibility
Open to any person or group of persons who are of ages between 18 and 35 years and adheres to the values of UNESCO.
No previous coding background is required.
Experience and expertise in game, mobile application, website and radio development would be an asset.
Evaluation Criteria
Consistency
Excellence
Feasibility and Sustainability
Potential Impact
Application
Submission will be a prototype of the solution and a 3-minute video pitch (a creative format is strongly recommended), which must present:
Problem statement, objectives and alignment with one of the three challenges
Explanation of the prototype
Feasibility
Audience
Deployment strategies
Business model and evidence of market validation
Sustainability
For more information, visit UNESCO.