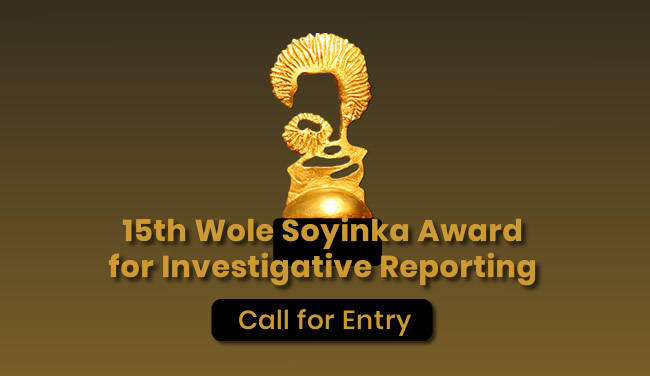 15th Wole Soyinka Award for Investigative Reporting 2020 for Nigerian Reporters
Deadline: October 24, 2020
Applications are open for the 15th Wole Soyinka Award for Investigative Reporting 2020. The Wole Soyinka Centre for Investigative Journalism (WSCIJ) rewards, promotes and encourages best practices in journalism works which focus on themes ranging from regulatory failures, corruption in the public and corporate spheres, and human rights abuses in the country.
The 2020 award will reward works that explore the intersection between Sustainable Development Goals (SDGs) and COVID-19. The choice of focus area for the 15th edition of the award programme is due to the fact that COVID-19 has exacerbated problems of poverty, hunger, education, health and inequalities between female and male persons among others, that Nigeria faces as the country marks its 60th independence anniversary.
The Award was instituted and first held in October 2005 to aid the development of an investigative reporting culture in the Nigerian media. In naming the award after Wole Soyinka, the initiators hoped to bring further attention to Soyinka's untiring and relentless support for the cause of freedom of expression.
Categories
Print
Radio
Television
Photography
Online
Editorial cartoon
Award
The award win includes a cash prize, an award plaque, a certificate of commendation, a computer backup hard drive and an international study tour.
Eligibility
Open to any Nigerian professional reporter or team of reporters (full time or freelancers);
Be 18-years and above;
Have published stories either online, in print, or through electronic media primarily targeted at and received by a Nigerian audience.
Criteria
The main criterion for eligibility is that the work (single work or single-subject serial) must involve reporting on public, and or corporate corruption, human rights violation, or on the failure of regulatory agencies. This year, stories on the COVID-19 pandemic in relation with the Sustainable Development Goals (SDGs) will receive special attention.
The story should reflect a high quality of investigation in terms of newsworthiness, capacity to expose or prevent clandestine activities, corruption in the public domain, an understanding of human rights implications enhanced by the quality of delivery/presentation/writing. Such works should have been first published or broadcast in a Nigerian media between October 4, 2019 and October 3, 2020.
Application
The submitted entries should include:
A brief synopsis of the story/series (maximum 400 words), picture, or portfolio.
In the synopsis, the applicant is expected to:
Explain the background of the project, identifying the issues and key players.
Describe what led to the topic or caption, any unusual condition faced in developing the project and whether the investigation had any ramifications.
Describe challenges to the content of the story/series that were not reported in the original work.
Include up-to-date curriculum vitae for every reporter who bears the byline of the story with passport photograph(s)
Include any relevant background information on submitted work(s)
An applicant may only submit a maximum of two entries.
For more information, see FAQs and visit WSCIJ.