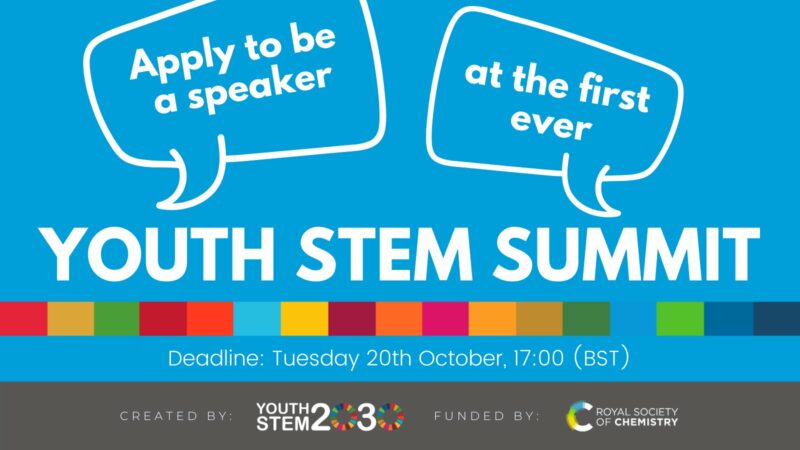 Apply to Speak at the Youth STEM Summit 2020
Deadline: October 20, 2020
Applications to Speak at the Youth STEM Summit 2020 are now open. The first ever Youth STEM Summit is set to be an amazing 3 days of tackling the big challenges in our world through STEM, and showcasing youth as trailblazing changemakers!
The Youth STEM Summit is taking place on October 30 – November 1, 2020, and they want to give YOUth a platform. Whether you want to share your journey in STEM, raise awareness of an issue you care about, or showcase your work to make a difference, this could be the perfect opportunity for you!
Session Formats
They've got 4 different session formats, and you can indicate which one(s) you prefer in the application form. Please note that they can't guarantee accommodating every preference, but if your application is selected, they'll confirm the date, time, format and any other speakers.
Talk: A 15-20 minute talk, with use of slides and audience questions.
Lightning Talk – The Big Challenges: An 8 minute presentation about a local or global challenge, or an issue you care about.
Lightning Talk – The Big Solutions: An 8 minute presentation about a solution you have created, e.g. through a project or competition.
Panel: A discussion between several people on a specific theme, facilitated by a panel chairperson.
Eligibility
All young people aged 24 & under can apply to speak at the Youth STEM Summit.
They want to give a platform to diverse voices and issues from around the world. Especially, they want to help amplify voices that don't always get to be heard, so whether you've spoke at lots of events before, or this is your first time, they want to hear from you.
Application
The application form has 3 main parts: About You; What you want to speak about; and Why you want to speak about it.
Applications are being accepted from 18:00 BST on October 14, 2020 until the closing date of 17:00 BST on October 20, 2020. Due to the time sensitive nature of this opportunity, they won't be able to accept late submissions.
For more information, visit Youth STEM Summit.