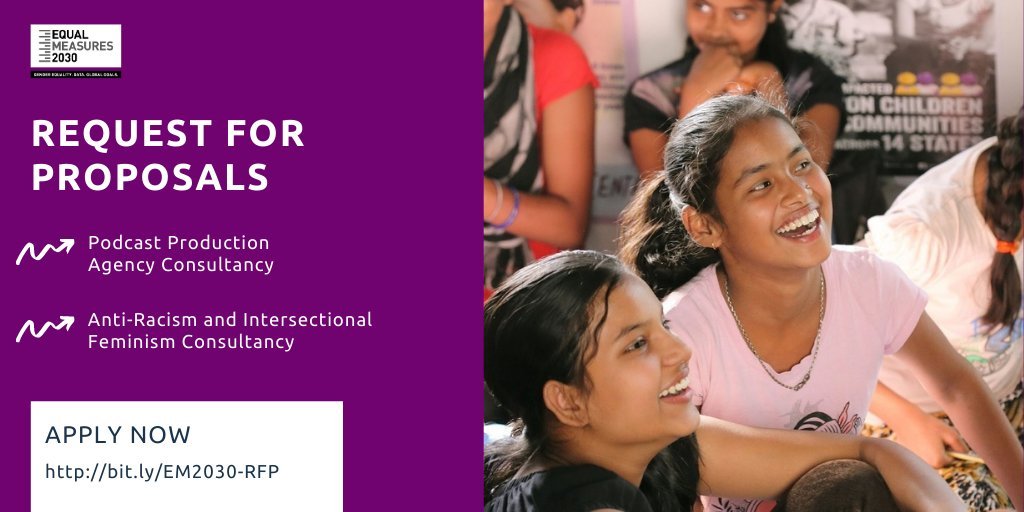 Request for Proposals: Equal Measures 2030 Multilingual Podcast Production
Deadline: On Rolling Basis
Equal Measures 2030 (EM2030) is looking for a podcast production agency to work on a multilingual (English, French and Spanish) twelve-episode series.
Equal Measures 2030 (EM2030) is a unique cross-sector partnership of leading organizations from civil society and the development and private sectors hosted by Plan International. They work to ensure that girls' and women's movements, advocates and decision makers have the data they need, and in a format, they can use, to guide and drive faster progress towards the gender equality commitments in the Sustainable Development Goals (SDGs).
The partnership recognizes that effective, integrated, and coordinated communication is integral to carrying out EM2030's goal of building a just world where all girls and women have equal power, voice, opportunity, and access to their rights, in line with the Sustainable Development Goals (SDGs). Through impactful storytelling and conversations with girls and women's rights advocates, data experts and researchers they will discuss gender data gaps, data-driven advocacy, access to quality gender data, making data and statistics accessible and relevant to and usable by all users.
Scope of Work
The Scope of Work is to help EM2030 produce a narrative multilingual twelve-episode podcast series. Episodes will be in English, French, and Spanish. The scope of work should include:
Overseeing the Podcast Production
Coordinating Podcast Interviews
Sound design/ Original music
Podcast Editing & Post-Production
Advise on best platforms to use
Manage the Podcast
Key Deliverables
A multilingual twelve-episodes podcast series (Episodes in English, Spanish and French).
Scriptwriting for each episode.
Monthly analytics report.
Final analytics report with recommendations.
Eligibility
Applicant should have demonstrated experience working with the international development community, partnership-based organizations and grassroots organizations on podcast production.
Demonstrated experience in journalism, script-writing and narrative storytelling.
Demonstrated experience in creative sound-design.
Experience coordinating and recording interviews remotely with excellent sound quality.
Ability to edit content/soundbites in multiple languages: English, French, Spanish.
Strong written communication skills, including preparation of detailed reports based on analytics.
Strong verbal and written communication skills, targeting a variety of audiences.
Fluency in Spanish and/or French.
Application
Submit a proposal including the following:
Your relevant experience for this work
The proposed budget and timelines
Portfolio samples
Three current references
Send to [email protected]
For more information, visit Equal Measures 2030.