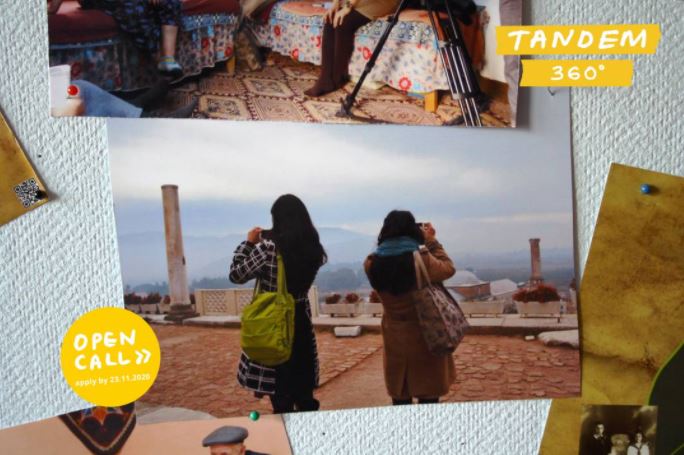 Tandem 360° Cultural Exchange Programme 2020/2021 for Cultural Managers and Civil Society Activists (Round 2)
Deadline: November 23, 2020
Do you want to connect to people, places and ideas across different countries? Do you want to experiment with new methods, tools and learn by doing something together? Do you want to develop, grow and reflect in your role as cultural manager, civil society activist and also as an organisation? Apply for the Tandem 360° Cultural Exchange Programme 2020/2021.
Tandem is looking for 20 civil society and cultural activists to join the second round of Tandem 360°. They are looking for the organisations that can share the knowledge of their field/discipline and they have some experience and interest in developing their local/regional/cross-sectoral cooperation.
Participating organisations will get a chance to connect with change-makers across the region. In the spirit of 'Doing-it-together', the one-year programme offers a space to experiment with multidisciplinary project ideas, ecosystem mapping and inventive approaches to create change through culture.
Benefits
Tandem offers:
Mutual 12-day work visits at your Tandem partner organisation.
4 Tandem network and training meetings with moderated peer-to-peer learning sessions and input by experienced trainers.
Methods and Tools for professional and organisational development.
Ongoing expert advice for the development of the cross-border collaborations.
Start-up funding of EUR 7,500 for a pilot project to develop in collaboration with your Tandem partner.
Being part of a network of more than 400 cultural activists across Europe and its neighbouring regions.
Eligibility
Open to independent cultural NGOs, non-hierarchical and open-minded public institutions or civil society initiatives which are well rooted in a local community and have an established professional network;
Based in Egypt, Jordan, Lebanon, Morocco, Sudan, Tunisia, and from Libyan initiatives and collectives displaced in these countries.
You should have the organisational and financial capacity, ambition and experience to engage in a one-year intensive international programme, as well as be ready to commit to providing sufficient work time of one employee in their organisation.
Application
Application deadline is end-of-day November 23, 2020 (23:59 CET). Selection of applicants and invitations for the Partner Forum will be announced by early December.
For more information, visit Tandem 360°.