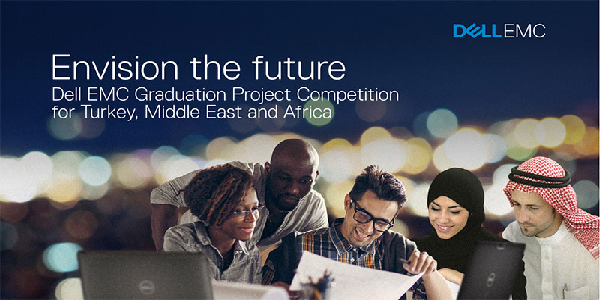 Dell Technologies Graduation Project Competition 2020/2021 for Middle East, Russia, Africa and Turkey
Deadline: December 30, 2020
Applications are open for the Dell Technologies Graduation Project Competition 2020/2021. Dell Technologies has launched the annual graduation project competition for senior undergraduate students from universities in Middle East, Russia, Africa and Turkey.
The competition is intended to spark the creativity of students for their graduation projects to play an active role in the Transformation of IT and get the opportunity to shine and win prizes. For the 6th consecutive year, they are launching the competition in search for top talents across the region.
If you are working on your graduation project in any of the below topics in the Healthcare, well-being, and Education sectors, you are welcomed to join them for a very exciting ride. The targeted topics are IoT, AI, and Multi-cloud.
Prizes
Winners of the competition will receive cash prizes as below:
First place will receive a cash prize of $5,000.
Second place will receive a cash prize of $4,000.
Third place winner will receive a cash prize of $3,000.
All the Top 10 team members will get recognition certificates for their achievement.
They will be offering a mentoring opportunity by Dell Experts for their finalists projects (who will pass the interim phase to the final one).
A formal award ceremony will be organized at one of the major Dell Technologies events in the region. All the members of the winning team and their academic advisor(s) will be invited to attend the ceremony along with senior officials from their university/college.
Eligibility
Students who wish to participate should be in their senior year and should be enrolled in any academic Institution in the Middle East, Russia, Africa and Turkey;
Students should have a faculty member as their supervisor;
Students should be a non-governmental employees and full-time university students;
Authenticity of the information provided by the students should be validated by the head of his or her department;
Students should be listed only in one project;
Each competing team should consist of a minimum of 3 and a maximum of 6 members. One of the team members should be selected as a team leader.
Evaluation Criteria
The submitted abstracts will be evaluated based on the following criteria: Relevance, originality, significance and expected contributions and impact.
Application
Participating teams should submit their Projects Abstracts containing the following information:
Question 1: What is the main problem that you are solving?
Question 2: What is the importance of this problem?
Question 3: What are the current solutions?
Question 4: How will your solution solve the problem? What is new?
Question 5: What is the expected impact of your solution from various perspectives (social, commercial, environmental, etc.)?
Question 6: Give a high level functional description of your solution. How will it be used?
Question 7: Give a high level technical description of your solution: architecture, technology, integration, innovative components, etc.
Question 8: Give a high level description of your solution development environment, platform, tools, etc.
Question 9: How will you manage your product development cycle, your quality assurance process, your solution deployment logistics, etc.?
Question 10: Give the most relevant plans that you have developed for your project (for example, time schedule, resource plan, training plan, risk management, contingency plan, etc.)
For more information, visit Dell Technologies.