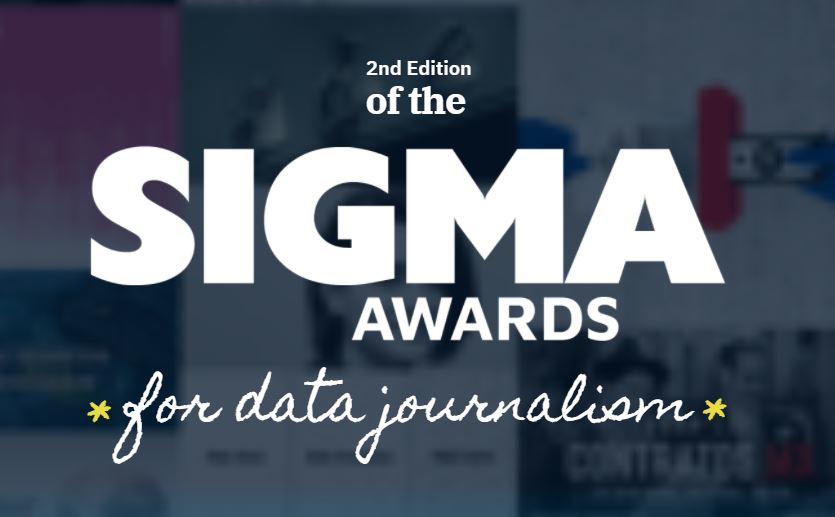 Sigma Awards 2021 for Data Journalism (US$5,000 cash prize)
Deadline: February 1, 2021
Applications are open for the Sigma Awards 2021. The Sigma Awards is the only international data journalism award which aims to not just celebrate the best data journalism around the world, but also to empower, elevate and enlighten the global community of data journalists.
The mission of the Sigma Awards is:
To highlight the very best data journalism being done around the world;
To build programs and resources around the awards that enable people in and out of the data journalism community to learn from this work;
To use the awards as a way to unite, galvanize and expand data journalism communities around the world.
Awards
A US$5,000 cash prize will be split amongst the winners. The latter will also get a certificate and speaking opportunities in Sigma's online events.
Eligibility
Entries must be for work published in calendar year 2020.
Applicants can enter as many projects as they want to the competition.
Entries should specify if they qualify as a large or a small newsroom or as an individual, where applicable. Small newsrooms are defined as those with 35 or fewer journalists (including regular freelancers/contractors), or equivalent (eg, two half-time freelancers count as one person.)
Organisations that do not qualify under this definition but who believe they belong in the small newsroom category may petition for an exception by sending a letter from the editor-in-chief explaining his or her rationale to Marianne Bouchart, executive director at [email protected]
Collaborative work should be entered as a large newsroom.
Entering organisations grant The Sigma Awards the right to use their material in their entry, including the organisation's name and logo, on The Sigma Awards website and other marketing material around the awards.
Application
Entries must be received by February 1, 2021 at 11:59pm ET, to qualify.
For more information, visit Sigma Awards.