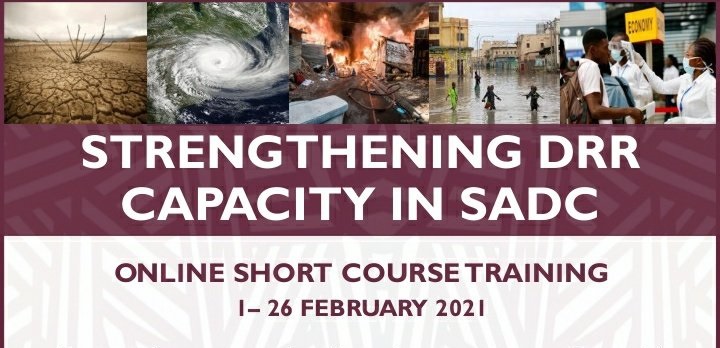 PERIPERI U Partners/World Bank Strengthening DRR Capacity in SADC: Online Short Course Training 2021
Deadline: January 15, 2021
Applications are open for the PERIPERI U Partners/World Bank Strengthening DRR Capacity in SADC: Online Short Course Training 2021. Despite significant progress and strides in the region to promote Disaster Risk Reduction (DRR), the Southern Africa region struggles to combat risk and remains highly vulnerable.
This is largely due to a severe lack of capacity or skilled personnel in the disaster risk sector to drive and implement effective and sustainable risk reduction initiatives in order to create resilient and sustainable societies.
In partnership with the World Bank, PERIPERI U Partners are hosting an online short course focused on strengthening capacity in Disaster Risk Reduction-based skills and knowledge for emerging researchers, early career practitioners and PhD level students in the SADC region with an interest in the fields of disasters, risk and resilience.
Study Structure
The program will comprise a mixture of contact teaching and self-study, supplemented with several pre-prepared electronic resources, such as 15-20-minute narrated presentations, videos and case studies. Course participants will be expected to:
Attend contact sessions (lectures and/or discussions) for an average of four-six hours each week. These sessions will be recorded for the benefit of students with intermittent internet connectivity/electricity supply.
Another six-eight hours per week will be flexible reading and self-study time. Participants will be expected to complete set readings, watch audio-visual and complete short tasks based on these resources.
Complete three assignments.
Benefits
The course will be accredited by the University of Stellenbosch Short Course Division in compliance with their quality assurance standards. Upon successfully completing course assessments, participants will be provided with a 'Certificate of Competence' by Stellenbosch University. Participants must complete both of their assignments and receive an average overall mark of at least 50% to qualify to receive their certificate.
Eligibility
The course is designed for emerging researchers, early career practitioners and PhD level students with an interest in the fields of disasters, risk and resilience. However, it will also be relevant for more experienced risk managers, established disaster risk practitioners and experts outside of academia who wish to sharpen their disaster risk knowledge and research skills – as well as to keep abreast of developments in the field.
Priority will be given to following target groups:
Citizens of SADC member countries.
Young professionals between the ages of 21 and 35.
Participants with some experience of Disaster Risk Management or related sectors.
Women with experience in related fields.
Those with a basic understanding of reading, writing and speaking in English.
Application
All interested persons are requested to apply for the short course through the Online application form. Please note that completion of the application form does not mean you are immediately or automatically accepted to participate in the courses on offer.
Once successfully completing the online application and submitting the requested documents, the registration staff will respond back by Early January 2021 to inform you whether your application was successful or not.
For more information, visit DRR Capacity in SADC.