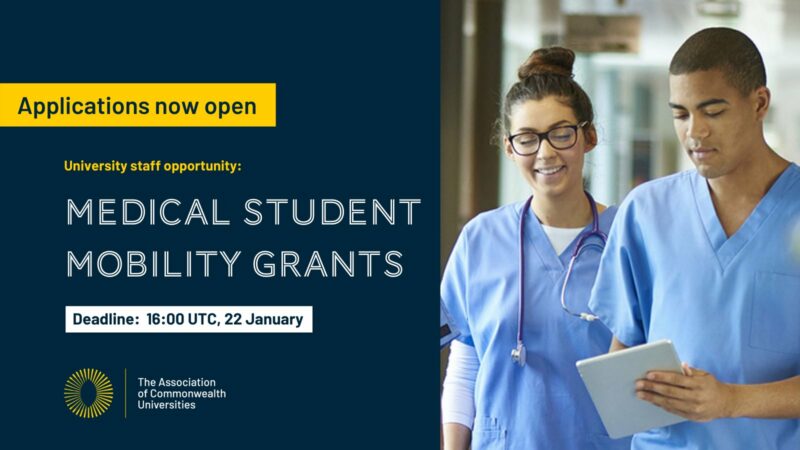 Association of Commonwealth Universities (ACU) Medical Student Virtual Mobility Grants 2020-2021
Deadline: January 22, 2021
Applications are open for the Association of Commonwealth Universities (ACU) Medical Student Virtual Mobility Grants 2020-2021. With the aim of increasing students' knowledge of global health, the grants will provide funding for medical schools to deliver virtual mobility projects in partnership with medical schools at ACU member universities in other countries.
This scheme will replace the Edward Boyle medical elective bursaries, which supported UK medical students to undertake overseas electives. To reflect the current times, the Medical Student Mobility Grants are for virtual collaborations only. Two Medical Student Virtual Mobility Grants will be available in 2020-21.
Grant
Two grants of a maximum of GBP 5,000 will be available. Each grant will be split between the two institutions collaborating on the project.
One grant will fund an exchange between a UK medical school and a medical school in a low or middle-income country, while the other grant has no geographical limitations.
Eligibility
Applications will only be accepted from staff of medical schools. Students are not eligible to apply directly.
The projects must involve students from two institutions in different countries, must involve online interaction, and should allow students to develop their intercultural skills and knowledge.
The project must be delivered before the end of 2021.
Application
As part of the application form, applicants must:
Give an overview of the project.
Describe the project's learning outcomes, which must include both developing students' intercultural skills, as well as their knowledge of global health.
Give details of the project leads at both institutions.
State the number of students who will benefit at both institutions.
Describe the platforms to be used and how the project will be made digitally accessible for students with limited access to data or Wi-Fi
Provide a time plan.
List the costs for which funding is to be claimed: these can include materials, equipment, staff time, institutional data costs and data grants for student participants.
List the outputs – at least one output must be shareable with other ACU members. Outputs could include videos, toolkits, student reports and articles, presentations, etc.
Explain how the project will be evaluated and how success will be measured.
Provide a letter or email of support from the Dean of the medical school or other appropriate senior university leader.
Provide a letter or email of support from the project lead at the partner institution.
Successful applicants will need to submit a report which compares the outcomes to those projected as part of the application, as well as providing one of their outputs to be shared with other member universities.
For more information, visit ACU Grants.