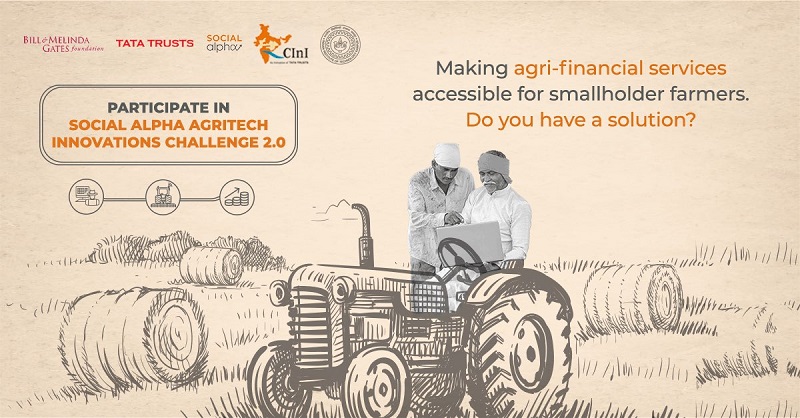 Social Alpha Agritech Innovations Challenge 2.0 for Innovators & Start-ups in India
Deadline: December 31, 2020
Do you have an innovative solution that can impact India's smallholder farmers? Apply now for the Social Alpha Agritech Innovations Challenge 2.0.
The agriculture and allied sector is the largest source of livelihoods in India. Yet, the situation for small holder category of farmers is extremely dire. The state of Uttar Pradesh alone accounts for 26% of India's low-income farmers, magnifying the need for impactful development interventions.
The core objective of the Social Alpha Agritech Innovations Challenge 2.0 is to curate innovative technologies that positively impact the lives of smallholder farmers. Winners will receive support in their lab to last-mile journey, including sponsored pilots in the state of Uttar Pradesh.
Benefits
Winners of the Agritech Innovation challenge will form a part of one of the following programs:
Incubation Program for early stage start-ups – managed by SIIC, IIT Kanpur.
Venture Acceleration Program for mature stage start-ups – managed by Social Alpha.
Incubation program for Early-stage start-ups:
Physical incubation at IIT-Kanpur's incubator, SIIC and/or FIRST.
Access to technology incubation facilities with high quality equipment and research experts at IIT Kanpur.
Product development support and access to technical expertise from IIT-Kanpur.
Access to shared office space and amenities at IIT Kanpur.
Access to grants such as BIRAC, PRAYAS, PRISM etc.
For venture acceleration program for mature stage start-ups:
Access to paid pilots in Uttar Pradesh with practical on-the-ground feedback.
Incubation services worth 10 Lakhs.
Access to Social Alpha's seed investment and / or grants funding
Access to state-of-the-art technology incubation centre at IIT Kanpur and Social Alpha's incubation infrastructure.
Dedicated Portfolio Managers to assist with developing go-to-market strategy and overall business advisory.
Product development support including assistance with designing, rapid prototyping and design for manufacturing.
Eligibility
Open to Innovators & Start-ups with science and technology based innovative solution that have the potential to create an impact in the lives of smallholder farmers and demonstrate business model sustainability.
Individuals, group of individuals, social enterprises and start-ups registered in India (whether for-profit or not-for-profit) are eligible to apply for the program.
Application
Th deadline for applications is December 31, 2020. Virtual interviews for top 60 applications will be in January 2021.
For more information, visit Social Alpha.