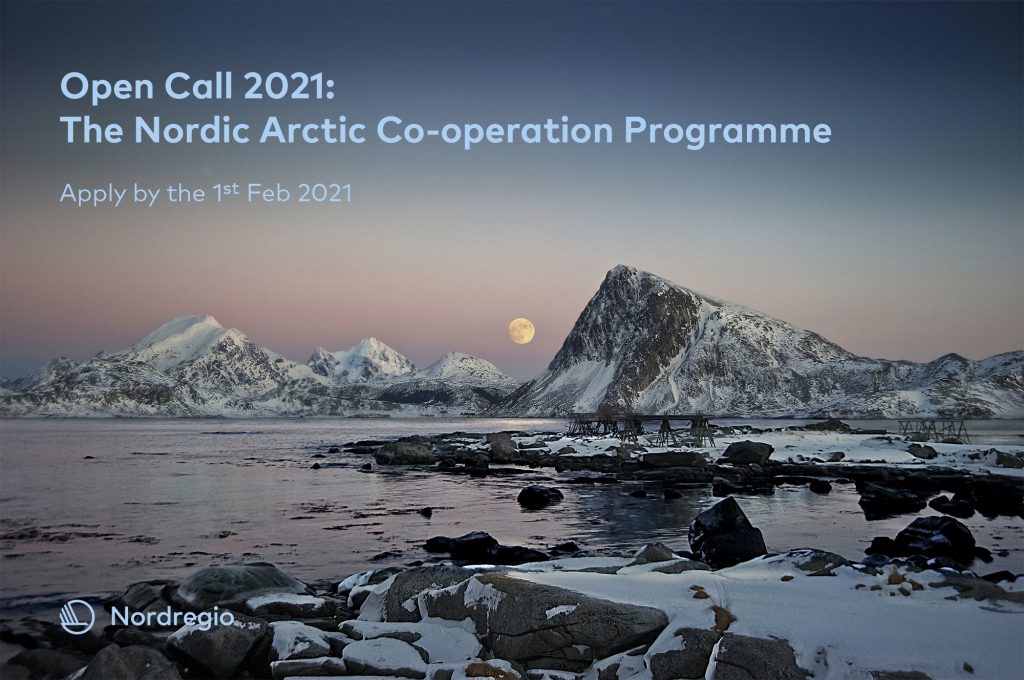 Call for Projects: Nordic Arctic Cooperation Program 2021 (up to DKK 500,000)
Deadline: February 1, 2021
The Arctic Cooperation Program of the Nordic Council of Ministers has opened up its call for new project applications for financial support in 2021. The aim of the Nordic Council of Ministers' Arctic Cooperation Program 2018–2021 is to create sustainable and constructive development in the Arctic and for its people based on the four P's: planet, peoples, prosperity and partnerships.
It is central to the Nordic Council of Ministers' Arctic Cooperation Program 2018–2021 that specific needs of the Arctic will be accommodated and that the program will contribute to the region's sustainable development. In this context, the Agenda 2030 and the 17 global sustainable development goals adopted by the UN General Assembly in 2015 play a significant role.
Funding
A maximum of DKK 500,000/year can be applied for. For each year the funding is granted, it is expected that projects will run within the year requested. If there are time problems in the project, you can get an extension, typically from ½ to a maximum of 1 year.
Eligibility
Open to leading institutions in Arctic affairs, newly established Arctic youth organisations, NGOs, artists, universities, associations of indigenous people and entrepreneurs from the Nordic region and beyond.
Assessment Criteria
When assessing applications, the following criteria will be given weight:
That the project will lead to quantifiable positive effects from joint Nordic/Arctic solutions that could not be achieved by a project implemented purely at national level.
That the project will have visible regional and local results in the Arctic.
That the project manifests and/or develops a sense of Nordic/Arctic cohesion.
That the project enhances Nordic skills and competitiveness.
That the project generates new and innovative knowledge and/or new partnerships that create new and innovative approaches to development in the Arctic.
That the project helps strengthen overall Nordic influence internationally.
That the project outcomes are communicated to the public.
Application
The submitted application has to be sent electronically as attached document to the e-mail address [email protected]
Be aware that you receive an email confirming receipt of the email (within the first working day after you have submitted the application). Note that the application must be accompanied by a signature and the page with the applicant's signature should be scanned and attached to the application.
In the application form, information on the following must be provided:
Detailed project description (maximum 5 pages).
Detailed budget and schedule (maximum 2 pages).
Communication and dissemination plan (max 1 page).
Download the application form: In English and In Danish
For more information, visit Nordic Arctic.