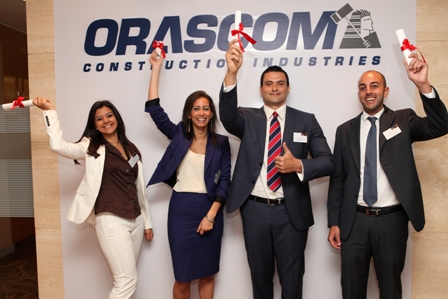 Orascom Construction Onsi Sawiris Scholarship Program 2022-2023 for Egyptians to Study in the U.S. (Fully-funded)
Deadline: July 31, 2021
Applications are open for the Orascom Construction Onsi Sawiris Scholarship Program 2022-2023. Through the Onsi Sawiris Scholarship program, OC provides full tuition scholarships for Egyptian undergraduate students seeking to pursue their Bachelor's degree in fields that will enhance the economic prosperity of Egypt at prestigious universities in the United States.
Orascom Construction seeks to promote excellence and achievement. They launched the Onsi Sawiris Program in the year 2000 to invest company resources in educational programs to improve the communities in which it works.
Scholarship
The scholarships include full tuition, a living allowance, travel and health insurance. Scholarship recipients will also be given the option of an internship position within the company.
Eligibility
Applicants should have a GPA 3.5 / 90% in Thanaweyya Amma certification (Secondary year) or equivalent certificates;
TOEFL iBT: 100 or above (or equivalent)
Minimum SAT I Score: 1450 (Taken within 2 years) or Minimum ACT Score: 32 (Taken within 2 years)
SAT II in 3 subjects: 600 or above (Highly recommended)
Extracurricular Activities
Fields of Study: Engineering, Economics, Political Science, Finance and Management.
Candidates should:

Meet the above criteria.
Be planning to start their studies in the U.S.A in the year 2022-2023.
Be Egyptian nationals, who are residents of Egypt (preference will not be given to dual nationality applicants).
Have not lived more than 3 years abroad.
Be committed to return to Egypt for two years directly after the successful completion of their bachelor's degree.
Approved Universities for the Scholarship
Note that in order to be considered for a scholarship, you must apply and gain admission to at least one of the following approved universities in the United States. AMDIEAST/Egypt will assist you in the application and placement process.
The approved universities for the undergraduate Onsi Sawiris Scholarship Program are:
Stanford University
The University of Chicago
Harvard University
The University of Pennsylvania
Application
Applicants are to submit:
Application form
Resume
Copy of test scores (SAT I / or SAT II) & TOEFL iBT
Copy of transcripts
Copy of graduation certificate or Thanaweyya Amma certificate (if available)
Two recommendation letters
For more information, visit Onsi Sawiris Scholarship.