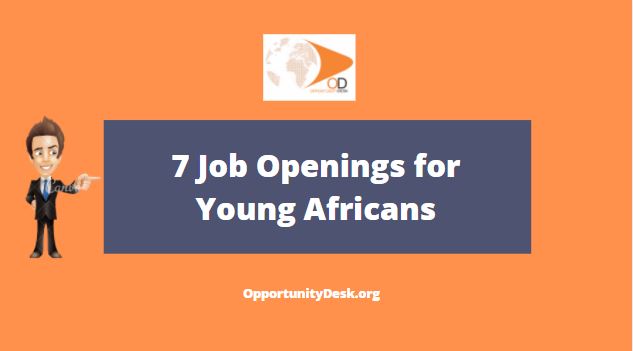 Job Alert: 7 Job Openings for Young Africans
Yay! It's Friday and the start of a beautiful weekend that ends the first month in what has been an awesome 2021 so far. We have some jobs that may appeal to your interest even as you seek professional and career growth. Take a look!
1. "How We Made it in Africa" is hiring Writers and Editors
"How we made it in Africa" is seeking freelance business writers to interview Africa's top entrepreneurs and write about business opportunities and trends throughout the continent. Send your application to [email protected] or [email protected]
2. CORDIO EA Internship Program
CORDIO EA is looking for an intern to contribute to their efforts in the field of coastal and marine research and conservation. The internships will provide an opportunity for early-career researchers to be part of a dynamic and stimulating environment that will allow them to apply, develop and learn relevant skills and knowledge, while contributing to CORDIO's ongoing projects and activities.
Click here for details | Deadline: Feb 1
3. West African Institute of Public Health (WAIPH) Virtual Internship Program
The Virtual Internship Program is a work experience program where the intern gains experience while working as part of a cohort and teams remotely to garner some key professional skills.
Click here for details | Deadline: Feb 8
4. Coca-Cola Automotive Apprentice Program – Nairobi, Kenya
They are looking for an Automotive Engineering Diploma Graduate who will join their vibrant 12 months Apprentice program to gain First Class Hands on Experience in their Fleet Management.
Click here for details | Deadline: Jan 29
5. Women in News Africa is hiring a Project Manager Accelerator
The Project Manager, Women in News Africa, is an essential position within the Women in News senior leadership team within the WAN-IFRA Media Freedom division. They are expected to work closely and collaboratively with the Women in News leadership group to implement WIN's shared vision and strategic objectives.
Click here for details | Deadline: Feb 1
6. Mongabay Africa Editor – French Position is Open
The Africa Editor – French will be responsible for the production of daily news and feature stories in French. The editor will help to grow the team of contributors focused on Africa's environment, manage assignments, edit articles, and ensure adherence to grant guidelines and reporting expectations.
Click here for details | Deadline: Feb 11
7. Dell Technologies is hiring a Client Technical Support
Join Dell as a Graduate Technician on their Client Technical Support team in Johannesburg to do the best work of your career and make a profound social impact.
Click here for details | Deadline: Unspecified
For more opportunities like this, visit our Hot Jobs Page.