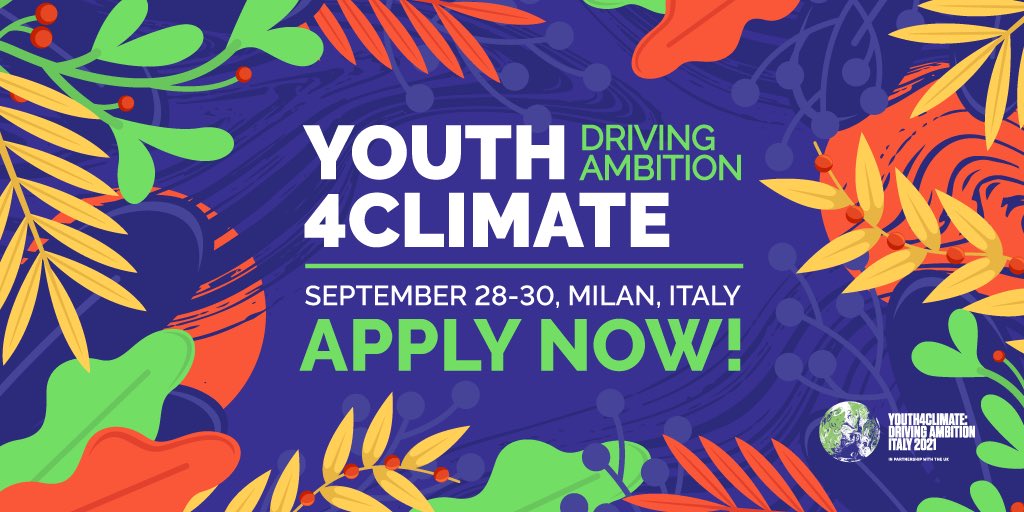 Apply to attend the Youth4Climate Driving Ambition Event 2021 in Milan, Italy (Fully-funded)
Deadline: February 28, 2021
Young people all around the world can now apply for a fully funded ticket to attend the Youth4Climate: Driving Ambition Event 2021 in Milan, Italy!
Almost 400 young people from the 197 member-countries of the UNFCCC will meet in 2021 in Milan, from 28 to 30 September 2021, to elaborate concrete proposals on topics that affect the negotiation process of Pre-COP26 in Milan (September 30 – October 2, 2021) and COP26 in Glasgow (November 1 – 12, 2021). The meeting in Milan is part of the process of involvement of young people, which started in 2019, also thanks to the support of Italy, with the United Nations Youth Climate Summit, held in New York on September 21, 2019.
Convened by the Government of Italy, the event will take place from September 28 to 30 and provide young delegates an unprecedented opportunity to put forward ideas and concrete proposals on some of the most pressing issues on the climate agenda. The first two days will be dedicated to working groups, while the last day will feature a discussion between young delegates and the Ministers attending Pre-COP26.
Cost
Italy will support the travel and accommodation expenses of the selected participants.
Eligibility
Open to young people from around the world;
Applicants should be aged between 18 and 29
Be from the 197 member-countries of the UNFCCC (maximum limit 2 for country).
Application
Submit an application by February 28, detailing the ways you are working with and leading other young people to advance climate action. Please direct any questions to [email protected]
For more information, visit Youth4Climate Driving Ambition.