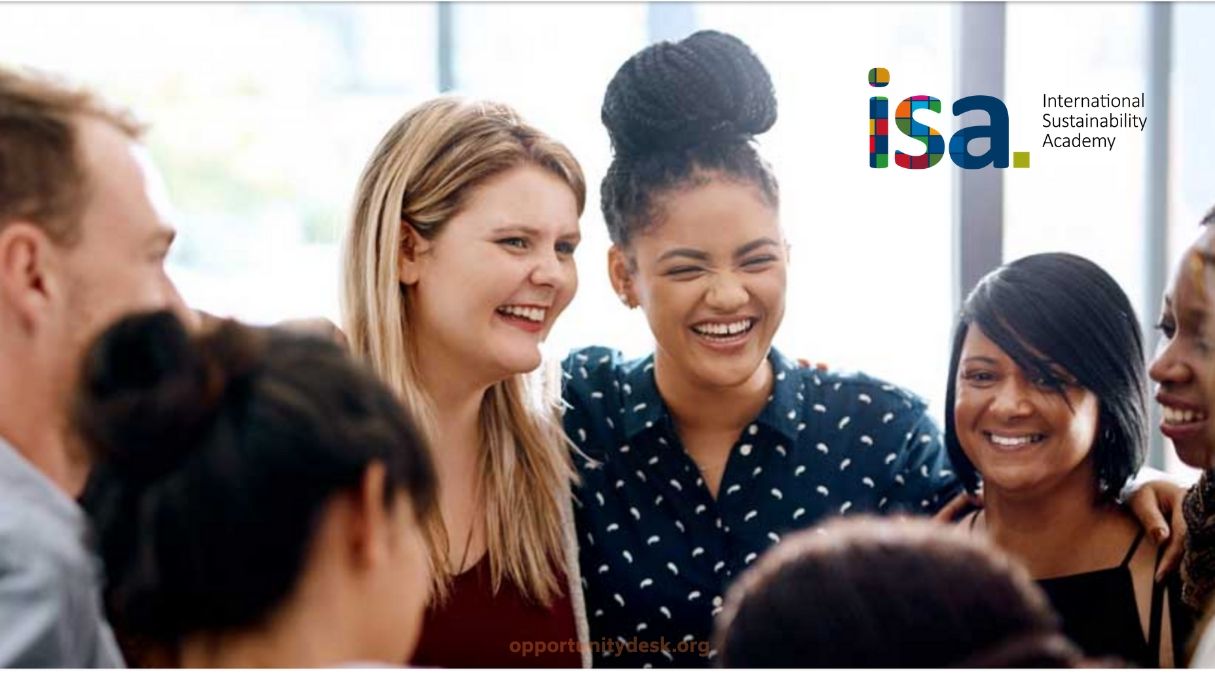 International Sustainability Academy (ISA) Scholarship Program 2022 for Young Professionals (Fully Funded to Germany)
Deadline: March 15, 2021
Applications for the 2022 International Sustainability Academy (ISA) Scholarship Program are now open. The International Sustainability Academy is a 9-month program for the support of committed people in their projects and research into the implementation of global Sustainable Development Goals (SDGs).
The program is aimed at people who are already involved in activities in connection with SDGs. These could be students with professional experience, career starters, Start-up founders or entrepreneurs. Those taking part come from countries that are on the so-called DAC list (Development Assistance Committee of the OECD).
Each participant has an individual program based on the chosen research or business project. The main focus is on the close exchange amongst the scholarship holders during individual research work. Program modules are practical training sessions of weeks or days in companies and institutions, Best Practice visits in Hamburg and elsewhere in Germany, Master Classes by international networked speakers and cooperation with selected universities. A 10-week German language course rounds off the program.
Program Details
Start and duration: The start of the 4th ISA program is planned to be
1st February 2022 to 31th of October 2022:

8 months in Hamburg and
1 month project implementation in the country* of origin*

Location: WÄLDERHAUS in Hamburg/Wilhelmsburg, Germany
*these are tentative dates subject to change according to current regulations in Germany and the overall travel situation due to the COVID 19 pandemic
Benefits
This is a scholarship, which includes the costs of living in Germany. For participation in the program and accommodation there are no costs incurred to the scholarship-holder. ISA covers the following cost:
€1,300 per month expenses (includes own research and as applicable, excursions and internships)
Health insurance
The accommodation (private, furnished flat-share room (ca. 12m²) with shared bathroom and kitchen)
The return flight (Economy Class (max. three stopovers, flight from the home country airport) (airport transfer in the home country may be granted under justified circumstances)
Airport transfer in Hamburg with public transport
Monthly ticket for the use of public transport in Hamburg
Costs of group excursions
BMZ sponsorship regulations apply  
Eligibility
Scholarship holders must come from the countries on the DAC list
English knowledge to be at least B1. Candidates who have pursued their higher Education in English, do not need a separate proof of their English skills.
Have a at least secondary school degree and relevant professional experience 
The scholarship holders* must already be working or researching on a project in their home country that is ideally sustainable or has a potential sustainable concept. What is important is a visible benefit for the home country. The sustainable project and its potential output and/or impact on a local / regional / national level are probably the most decisive factors within the selection process. PLEASE DO NOT APPLY IF YOU DO NOT MEET THIS REQUIREMENT.
The project must be assigned to one or more sustainability goals (SDG ́s).
There is no age limit for the application.
Please note that If you are selected for the second round, you will have to upload the following application documents as PDFs. We would like to recommend that you start promptly with a detailed description of the project and its potential implementation, possibly apply for a new passport, and clarify the necessary approval from the employer!
Proof of training, work experience, diploma, bachelor's degree, master's degree or equivalent training
Passport copy.
Letter of motivation, 1,000 characters
a 3-4-page curriculum vitae with date and signature, formulated in full
English language certificate (min. B1) (not applicable for native speakers and those who completed their higher degree in English language
Detailed project description following the ISA template
Authorization for a study leave (authorization from the employer)
The selection is based on the following requirements and the dimensions derived from them:
PROJECT IDEA AND PLANNED IMPLEMENTATION: potential impact in the home country, stakeholders for implementation in the home country, technical qualification or experience for the development and implementation of the project
INTELECTUAL CAPABILITIES: – Professional qualifications – English language skills, general education/open-mindedness – open-mindedness and interest / creativity
VALUE ORIENTATION / RESPONSIBILITY – Viewpoint and Acceptance of following a non-discrimination practice regardless of sex, country of origin, color of skin, religion, sexual identity (LGBT), disability or age – Independent Thinking
GENERAL ENVIRONMENTAL POLICY COMMITMENT – Voluntary work taking into account artificial or scientifically oriented personal contributions
PERSONALITY – Motivation – Potentials – Appearance – Social competence
*the implementation may be extended up to 4 month until submission of the final report. Hence a total of max. 9 month of stipend will be paid.
Application
Applications must be submitted using the online form on this website
Please note that only complete application documents can be considered
The project team is available for inquiries via email
An interview will be conducted with aprox. 30-40 interesting candidates* via video conference.
For more information, visit ISA Scholarship.