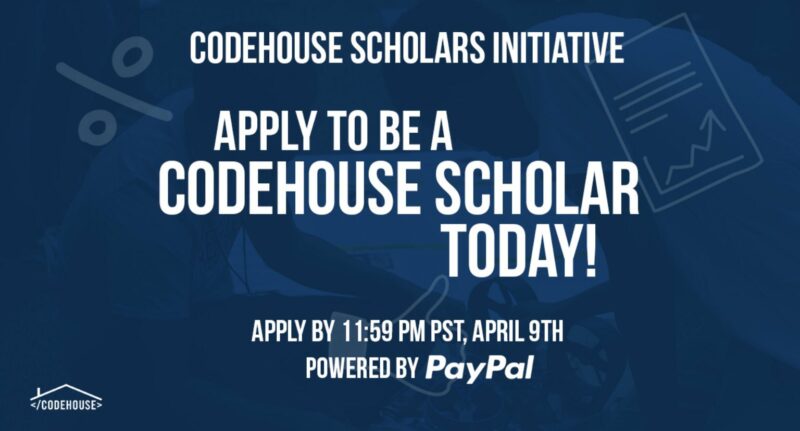 CodeHouse Scholars Initiative (CHSI) 2021 for Students of Colour in the U.S
Deadline: April 9, 2021
Apply now for the CodeHouse Scholars Initiative (CHSI) 2021. The CodeHouse Scholars Initiative (CHSI) will mentor, prepare and invest in Black, Latinx and Native American students, in their first year of college, for a career in the tech industry.
CODEHOUSE is a 501(c)(3) non-profit that focuses on cultivating a strong pipeline between students of color and industry-leading technology companies. At its core, CodeHouse aims to tackle the diversity gap in technology by providing exposure and resources to enhance students' technical skills, promoting internship/full-time placement, and elevating the next generation of diverse leaders in technology.
Benefits
As a scholar you will be able to receive:
Up to $20,000 academic scholarships for a tech-related degree;
Collegiate mentorship from participating HBCUs and industry mentorship from companies like PayPal and Microsoft;
4-week paid summer bridge program to build your technical and leadership skills.
Eligibility
Open to enrolled and matriculating high school senior scheduled to graduate in the spring of 2021.
Be enrolled for the first time at one of the three (3) participating HBCUs: Clark Atlanta University, Morehouse College, or Spelman College.
Have demonstrated financial and unmet financial need as measured by the student's college or university.
Have a minimum cumulative GPA of 3.2 on an unweighted 4.0 scale or equivalent.
Show evidence of readiness for and commitment to pursue a major in a tech-related field, including computer science/engineering, information sciences, engineering (industrial, mechanical, or electrical), mathematics, human-computer interaction, graphic or UX/UI design.
Show evidence of academic ambition, leadership, service, and interest in the technology field.
Identify as Black/African American, Latinx, or Native American.
Expectations
Scholar Expectations (including, but not limited to the following):
Commit to participate in the 4 week Summer Bridge program
(July 6 – July 30, 2021);
Must be able to participate in all program-related activities;
Must work collaboratively with their assigned mentors (industry and collegiate);
Remain in good academic standing;
Do not incur any disciplinary infractions on academic record;
Students selected to participate in the program must provide supporting documentation requested during the financial need verification process.
Application
Application closes on April 10, 2021. Late applications will not be considered.
For more information, see FAQ and visit CodeHouse Scholars Initiative.