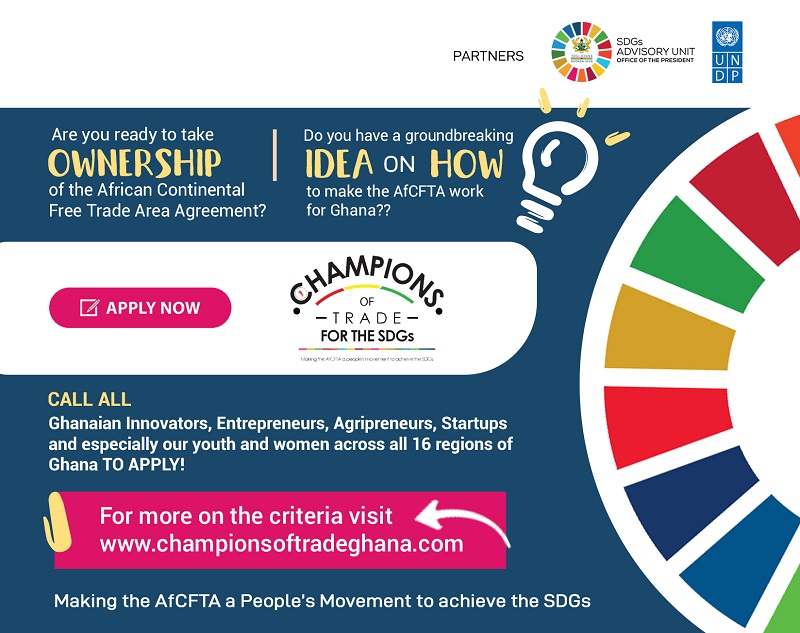 UNDP Ghana-SDGs Advisory Unit Champions Of Trade For The SDGs 2021 (Seed Fund of GHC 10,000)
Deadline: April 16, 2021
The SDG's Advisory Unit of the Office of the President in partnership with the UNDP Ghana and supported by the Ghanaian Ministry of Trade and Industry, has just launched Champions of Trade for the SDGs 2021. This competition is designed to nurture innovative ideas through which the AfCFTA can deliver the SDGs.
The core objectives of the Champions of Trade for the SDGs initiative are to promote continental trade among young African Innovators, Entrepreneurs, Agripreneurs and Startups and help the youth and especially women, to understand how important it is for everyone to be involved in achieving the broader objectives of the Africa Free Continental Trade Area (AfCFTA) agreement and especially so for the SDGs.
The Pitch
The 10 regional tasked teams would have an opportunity to pitch their ideas to a panel of judges through a video submission that brings on board the local context of how to make AfCFTA beneficial at the grassroot level. The video submissions and recordings will be publicized as part of the sensitization campaign. Finalists would be selected based on the judgement of a panel of judges. .
Prize
Based on the popular acclamation and scores from the panel of judges, 3 out of the 16 tasked teams would be selected as finalists and awarded the seed fund of GHC 10,000 each.
Eligibility
Open to Ghanaian Innovators, Entrepreneurs, Agripreneurs and Startups.
With a mission to project the national interest, youth networks, innovation hubs and community/grass root organisations from across the 16 regions of Ghana are strongly encouraged to apply.
Applications in the form of videos or text, will be accepted.
Judging Criteria
Careful consideration will be given to ideas which empower women and promote the sustainability of people, planet, partnerships for ensuring AfCFTA works and it works for the SDGs. Full competition rules are developed based on impartial standard corporate practices and requirements:
Creativity and Ingenuity: Applicants should clearly show how their idea is innovative and different from what exist.
Relevance: Applicants should demonstrate what the idea means for grassroot change especially for the region they represent.
Scalability: Capacity to propagate and increase.
Feasibility: How practical is the idea or solution that is being advanced? Implementation risks.
Presentation: Outstanding and compellingly submissions with practical demonstration.
Selection Process
All submissions would go through a 1st stage prescreening with 3 innovative ideas being selected to represent each region during the competition.
At the 2nd Stage of the competition the selected 3 regional representatives would be tasked to work together to draw synergies from their ideas to develop a comprehensive model for making AfCFTA a people's movement for the region they represent.
Application
Do you have an outstanding idea on how to make the AfCFTA a people's movement? Apply NOW! The deadline for application is April 16.
For more information, visit Champions of Trade.