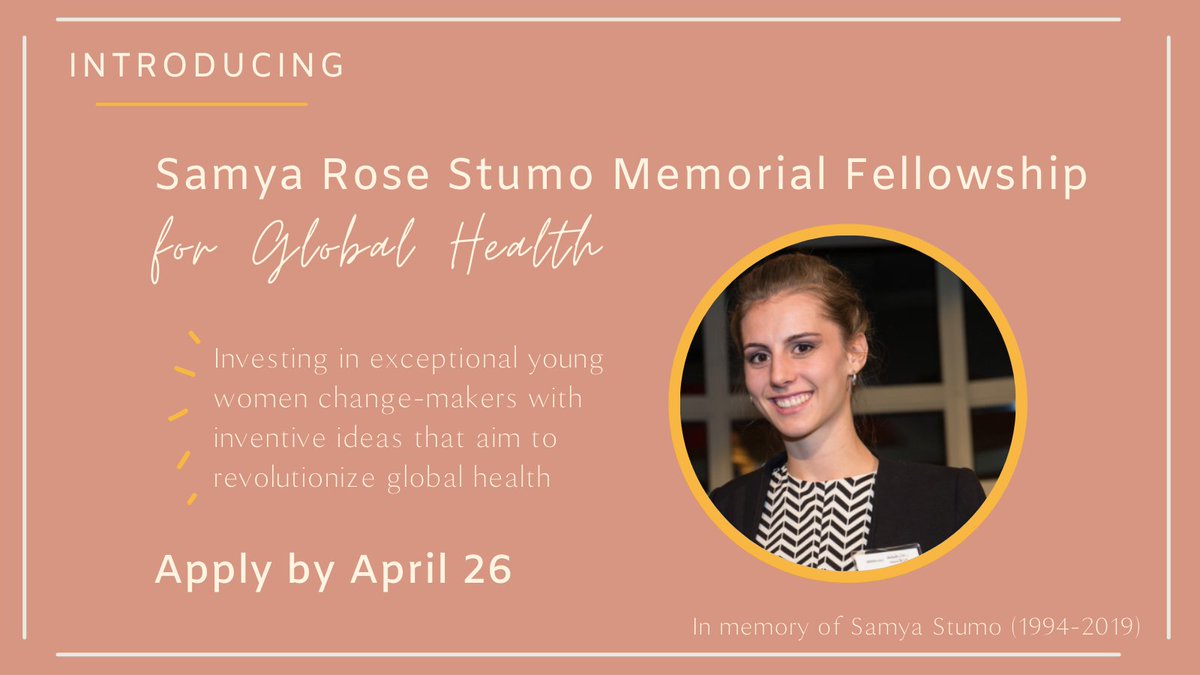 Samya Rose Stumo Memorial Fellowship for Global Health 2021 (Stipend available)
Deadline: April 26, 2021
Applications for the Samya Rose Stumo Memorial Fellowship for Global Health 2021 are now open. The Fellowship fosters a global community of young women to inspire their vision, develop their skills, incubate their ideas, and elevate their voices to become the change makers of tomorrow.
The fellowship seeks to identify and nurture young women from across the globe to co-create transformative global health projects with ThinkWell. Selected fellows will be part of a 12-month inaugural cohort designed to bring their interests and ideas to life. Fellows will work with ThinkWell experts and have access to cutting- edge resources to co-create a project idea in health systems, health advocacy, health policy, or health entrepreneurship.
Leading global health experts from ThinkWell will serve as a mentor to each fellow, directing them through the entrepreneurial process and providing critical feedback along the way. Fellows will write a summary of their learnings and findings and give a presentation after 12 months. They understand that fellows will be at varying stages of development in their area of interest, and they are committed to curate and facilitate experiences designed to bring value to each fellow. While fellows are primarily responsible for individual projects, they encourage cross-collaboration and exchange of ideas.
Benefits
Fellows will receive stipend to assist them with living expenses and project costs.
Fellows will be assigned ThinkWell mentors who are in-country leading experts in global health.
Fellows will receive customized exposure, tools, resources, and workshops to accelerate their impact.
Fellows will gain access to a global community of health professionals.
Eligibility
Open to outstandingly bright, motivated, and driven women with a burgeoning interest to explore a concept in global health.
These women should be self starters, have demonstrated leadership in their communities, and have a commitment to challenge the status quo.
Women should be in or have recently completed a master's degree or higher.
Initially, the fellowship will accept promising women applicants from Kenya, Indonesia, Bangladesh, and the Philippines.
Evaluation Criteria
Prospective fellows can either apply for the fellowship with an original project idea or apply on the merits of their accomplishments with a desire to co-create a project in an area of interest with leading ThinkWell experts. Proposed ideas or areas of interest must be related to health systems, health policy, health advocacy, and/or health entrepreneurship.
Candidates will be evaluated against the following criteria:
Is the idea or area of interest financially, politically, practically realistic?
What impact will the idea or area of interest have?
What background/experiences make the applicant qualified to undertake a project in this space?
Application
Interested individuals are encouraged to apply with the following:
CV outlining education, experience, and accomplishments
A letter of recommendation describing how the candidate exemplifies strong merits and commitment to the field of global health
Answers to the following questions about a project/initiative in health systems, health policy, health advocacy, or health entrepreneurship:

Problem Statement: What problems do you want to address throughout the fellowship? Provide evidence of the problems with data and details (350 words max)
Potential Solutions: Provide a compelling explanation of the opportunity/opening/void you see in the ecosystem. Outline possible avenues you'd explore as a potential solution. If you have an established idea, please expand on it here (350 words max)
Impact: Explain the intended impact you hope to address by researching your problem area. What are some long-term goals? (200 words max)
Potential Challenges: Briefly describe any potential challenges that you may face as you explore your problem area (200words max)
Answers to the following questions: Which professional accomplishments to date are you proudest of? (200 words max) What are your professional goals for the next several years? (150 words max) How would this opportunity advance your goals? (150 words max)
For more information, visit ThinkWell Global.