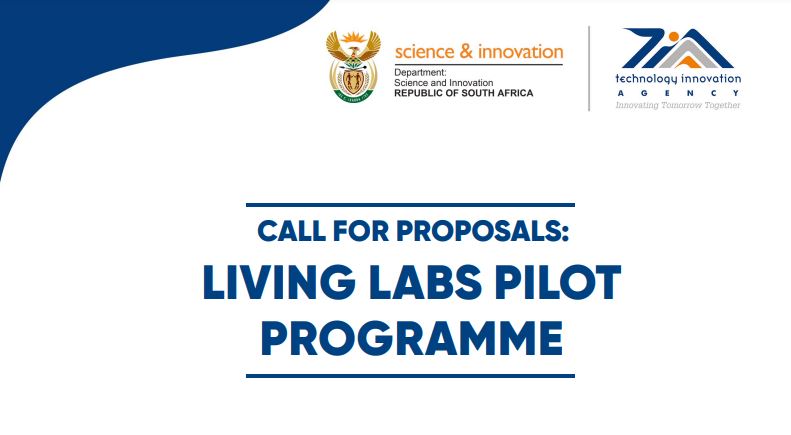 Call For Proposals: Living Labs Pilot Programme 2021 [South Africa Only]
Deadline: April 30, 2021
The South African Department of Science and Innovation (DSI) and the Technology Innovation Agency (TIA) are calling for the submission of funding applications for the extension of the Living Labs Pilot Programme 2021.
TIA calls for proposals for community-based rural Living Labs in marginalised communities of the following provinces: North West, Limpopo, Mpumalanga and Northern Cape. Applications will be accepted for:
Developing a new Living Lab/ Replicating a successful Living Lab; and
Expansion of an existing Living Lab through launching an innovation
support programme to support innovators and/or focused on supporting co-creation with local stakeholders (i.e. local innovators, community users, researchers, etc.) particularly the youth.
Grant
Grant funding up to a maximum of R2.5m for developing a new Living Lab/Replicating a successful Living Lab and up to R1.5m for expansion of an existing Living Lab through launching an innovation support programme.
TIA will retain the first right of refusal to fund any innovation outputs of the project; and
The duration of the project shall be for a maximum period of 18 months. Any period in excess of this should be well motivated, clearly indicating the deliverables associated with the extended period and reasons why it is not feasible to achieve the project within the given period.
Eligibility
The fund is targeting existing Living Labs that can demonstrate the ability to introduce or expand an innovation support programme/ activities;
Individual entrepreneurs who have demonstrable track record of working in communities and have identified basic facilities where they can undertake innovation support activities; and
An organisation or individual entrepreneur who has an experienced partner (to mentor in the process of establishing the Living Lab) and have identified basic facilities where they can undertake innovation support activities.
Living Labs currently funded through the Living Labs Pilot Programme are not eligible to apply.
Assessment Criteria
Innovation Support Programme has been clearly articulated;
Targeted beneficiaries (geographic location, marginalised communities, youth innovative enterprises);
Local community need has been identified and clearly articulated;
Compliance with the specifications of this call for proposals; and
A broad sustainability plan for the living lab has been articulated.
Other criteria to be considered include:
The proposal meets the requirements for funding as per fundable activities;
The proposal represents an active collaboration with the community and at least two other actors – local innovator/s, industry and public sector/government/research institution;
The project timeline is feasible given the scope of the project;
A clear, relevant community or local economy need in marginalized community has been articulated;
The outcomes will contribute to an innovation pipeline with innovation outputs that address community needs;
The likelihood that the planned outcomes and outputs could qualify for follow on funding from TIA and other funders;
The amount of funding that could potentially be attracted/leveraged from other partners beyond TIA funding;
The team capabilities; and
The governance, financial and operational systems are in place to manage and account for the grant.
Application
The completed proposals must be submitted by email to Ms Sibongile Radebe via email on [email protected] on or before April 30, 2021 at 1600. Late applications will not be accepted.
For more information, visit Living Labs.