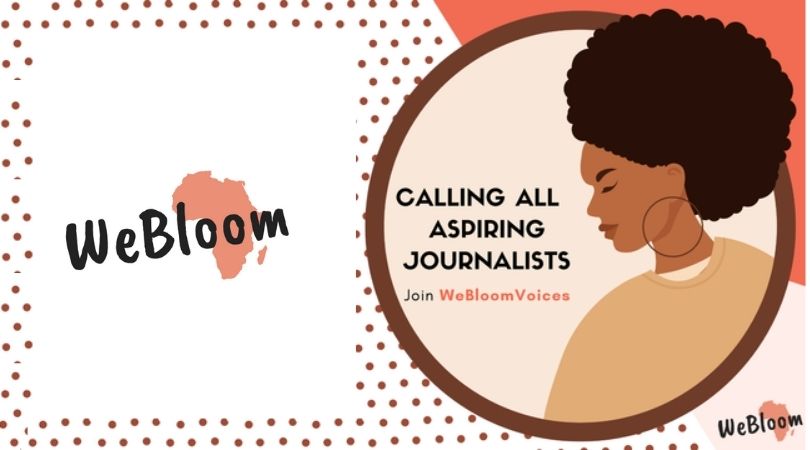 WeBloom Africa is looking for 6 African Journalists to join their team
Deadline: May 31, 2021
WeBloom Africa through the WeBloomVoices is looking for 6 African journalists. WeBloomVoices is unearthing the rich narratives of female entrepreneurship in Africa. Join them and get the opportunity to get your work published and showcase female entrepreneurship in your innovation ecosystem.
Benefits
Receive training on business reporting, working with sources, how to search for trusted information and story pitching
Deepen your knowledge of African enterprises and gender disparities within the innovation and entrepreneurship sector more broadly
Be exposed to expert speakers and gain relevant networks
Gain access to story ideas and editorial advice
Share your own expertise with other participants;
Eligibility
If you're a journalist passionate about gender equality and entrepreneurship, then we want to hear from you! You must:
Be aged 18-35
Have a degree in Journalism or an equivalent field
Be a native speaker of English or be able to speak and write in English
Have demonstrable experience in journalistic writing (print or online media) + experience in daily reporting.
Be available to work with WeBloom for a duration of 6 months and produce at least 4 article each month.
Attend and actively participate in fortnightly feedback online meetings with the WeBloom chief editor and other selected journalists.
Complete a monthly monitoring and evaluation survey
Application
To apply for opportunity, provide them with the following:
Motivational letter
Current CV
3 journalistic articles of your recent work
All applications must be sent to [email protected] before 11:59pm (Central African Time) on the 21st of May 2021.
For more information, visit WeBloom Africa.