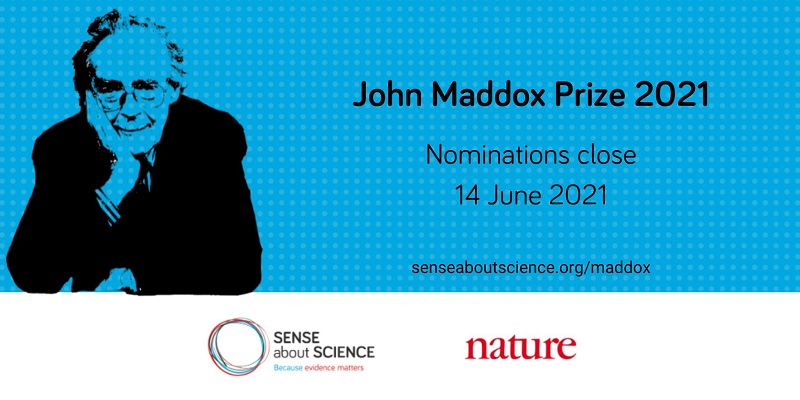 Call for Nominations: John Maddox Prize 2021 (£3,000 prize)
Deadline: June 14, 2021
Nominations are open for the John Maddox Prize 2021. The John Maddox Prize recognises the work of individuals who promote science and evidence, advancing the public discussion around difficult topics despite challenges or hostility.
The John Maddox prize is a joint initiative of the charity Sense about Science and the leading international scientific journal Nature. The Prize has been awarded annually since 2012 to researchers who have shown great courage and integrity in standing up for science and scientific reasoning against fierce opposition and hostility. Each year there is one or two winners, and an additional prize for an early career researcher.
The prize brings into the spotlight the difficulty faced by many who fight to share the results of research evidence, and inspires and encourages people the world over to do the same. In 2019 there were over 200 nominations from 38 countries.
Prize
The winner of the John Maddox Prize receives £3,000. The award is presented at a reception hosted at Wellcome Collection in November.
Eligibility
Candidates for the John Maddox Prize must be nominated.
This is a global prize: people from any country and in any field can be nominated.
Judging Criteria
Nominations illustrate a wide variety of circumstances faced by researchers and communicators around the world, and judges consider these in the round. They also consider:
The significance of an individual's effort to advance the discussion of sound science in the public sphere.
The nature of the challenge(s) faced by the individual, whether they persevered and whether those challenges were beyond what would be expected in their position.
How well they placed the evidence in the wider debate and engaged others.
Nomination
As a nominator you should normally be an individual who is familiar with the work of the candidate but self-nomination will be considered in exceptional circumstances.
Nominations are to take the form of a letter of recommendation and include biographical information on the candidate and a description of the candidate's work in standing up for science. Permission must be sought from the nominee. If possible, a supporting referee should be included in the nomination form.
Nominations for the John Maddox Prize are open until close on June 14.
For more information, visit John Maddox Prize.