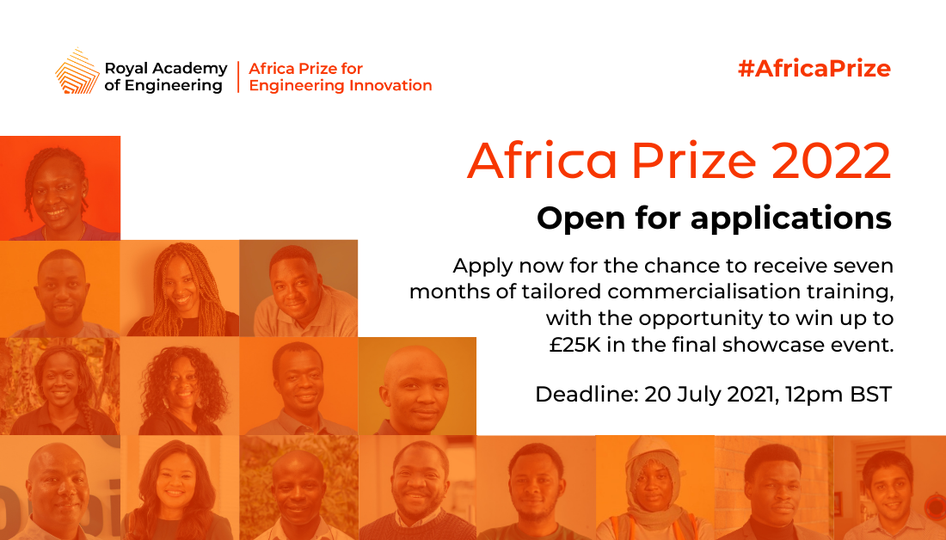 RAEng Africa Prize for Engineering Innovation 2022 for African Innovators (Up to £25,000)
Deadline: July 20, 2021
Applications are open for the Africa Prize for Engineering Innovation 2022. Launched in 2014 by the Royal Academy of Engineering (RAEng), the Africa Prize for Engineering Innovation awards crucial commercialisation support to ambitious African innovators developing scalable engineering solutions to local challenges, demonstrating the importance of engineering as an enabler of improved quality of life and economic development.
The Prize has a track record of identifying engineering entrepreneurs with significant potential, many of whom have gone on to achieve greater commercial success and social impact. Each year, up to 16 shortlisted African innovators receive a unique package of support over seven months to help them accelerate their businesses.
Benefits
The benefits of selection include comprehensive and tailored business training, sector specific engineering mentoring, communications support, pitching opportunities and access to the Academy's network of high profile, experienced engineers and business experts in the UK and across Africa.
Tailored training and mentoring culminates in a showcase event where a winner is selected to receive £25,000 along with three runners-up, who are each awarded £10,000.
Eligibility
The application must be written in English.
The lead applicant must be over the age of 18 when applications close on July 20, 2021. There is no upper age limit.
Applicants can apply as an individual or as part of a team.
The lead applicant must be a citizen of a country in sub-Saharan Africa.
For teams of two or more, the lead applicant (the person participating in training) must be a citizen of a country in sub-Saharan Africa.
The lead applicant must be ordinarily based in sub-Saharan Africa; if based overseas, this must be temporary for studies or otherwise.
The innovation must be based in a country in sub-Saharan Africa
The lead applicant must have an engineering innovation, although they are not required to be an engineering graduate or student to apply.
The lead applicant must provide a letter of support from a university, research institution, innovation hub or previous incubator programme.
This can be as simple as stating that an individual studied at or was involved with that institution. If applicants are not affiliated with any organisation, another document proving the status of their organisation or innovation, such as a document of incorporation or patent certificate, may be used.
Industrial researchers and establishments are not eligible.
The innovation can be any new product, technology or service, based on research in engineering defined in its broadest sense to encompass a wide range of fields. This includes but is not limited to: agricultural technology, biotechnology, chemical engineering, civil engineering, computer science, design engineering, electrical and electronic engineering, ICT, materials science, mechanical engineering, and medical engineering. If you are in any doubt that your area of expertise would be considered as engineering, then please contact the Academy to discuss your application.
The innovation must be at technology readiness level 3 or above. Evidence of a prototype should be provided in the application.
Application
All applications must be submitted via the online grant management system (GMS), available here.
You must register though the system before you can apply. The application form has six sections and will take approximately one and a half to two hours to complete on GMS. However, please allocate more time to gather the relevant documentation and prepare your answers offline.
After logging in to the online grant system, please select Africa Prize for Engineering Innovation 2021/2022. This will take you to the 'Instructions' screen. Here you will see some general instructions on how to use the system as well as the six sections of the application form.
For more information, visit Africa Prize for Engineering Innovation.