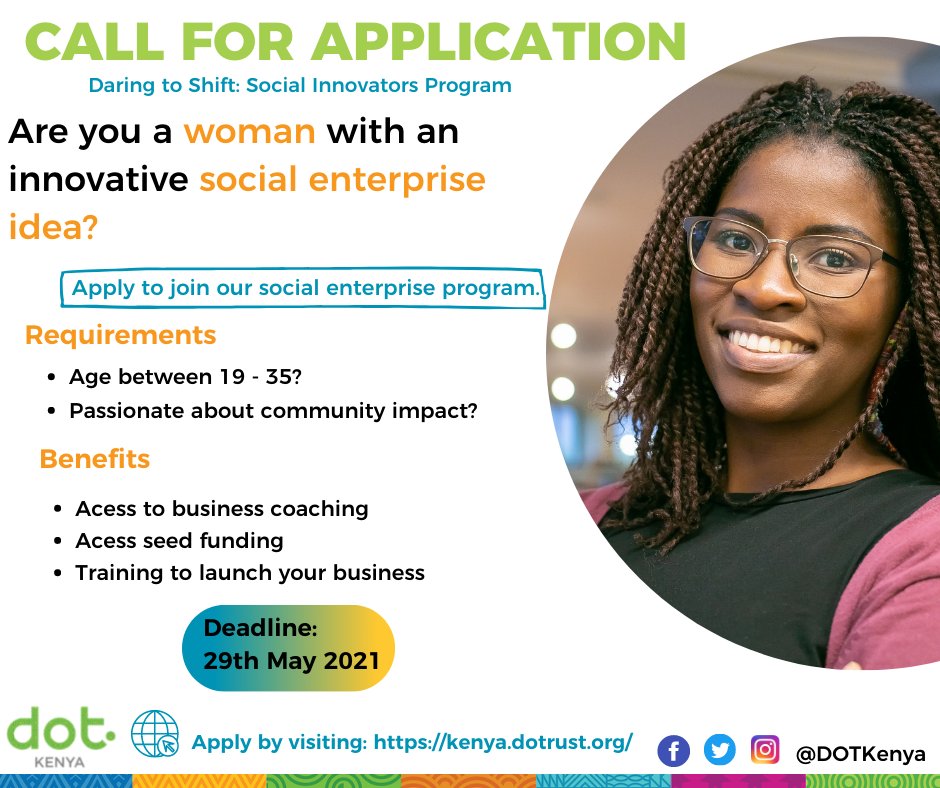 DOT Kenya Daring to Shift: Social Entrepreneurship Program 2021
Deadline: May 29, 2021
Applications for the DOT Kenya Daring to Shift: Social Entrepreneurship Program 2021 are now open. Digital Opportunity Trust (DOT) Kenya seeks to engage 30 young vibrant leaders from different parts of the country, who are passionate about entrepreneurship and community impact, to be part of the Daring to shift: Social Entrepreneurship program for a period of 12 months beginning July 1, 2021.
DOT Kenya's Daring to Shift program is designed to embody DOT's youth led  mission through incorporating youth voices and building the leadership capacity of outstanding youth within the DOT network and from communities that DOT Kenya  works. The D2S Social Innovators program will provide strategic and specialist  advice to upcoming Social Entrepreneurs and help them to establish impactful businesses  within their communities.
Benefits
Access to Entrepreneurial training from ideation to launch
Acceleration Program
Business Coaching
Seed funding
Eligibility
Applicant must be a woman aged between 19-35 Years old;
From the following regions: Nairobi and its environs, Central, Western Kenya and Kisumu, Rift Valley and Coastal Region;
Must have a business idea that can impact the community;
Availability for the next one year.
Other requirements include
Be self-motivated.
Team-oriented, possess a positive attitude and works well with others.
Excellent verbal and written communication skills in English, speak local language proficiently or with full fluency.
Ability to work efficiently and promptly with team members and stakeholders.
Comfort with using email email/GoogleHangout/Skype/SMS/instant messaging as a primary means of communication is a must.
Good computer skills, including knowledge of Word and Excel.
Have access to a smartphone or a computer.
Application
Note that only applications submitted through the form will be processed. If you have any questions kindly send an email to [email protected], with Social Entrepreneurship as the subject.
For more information, visit DOT Trust.