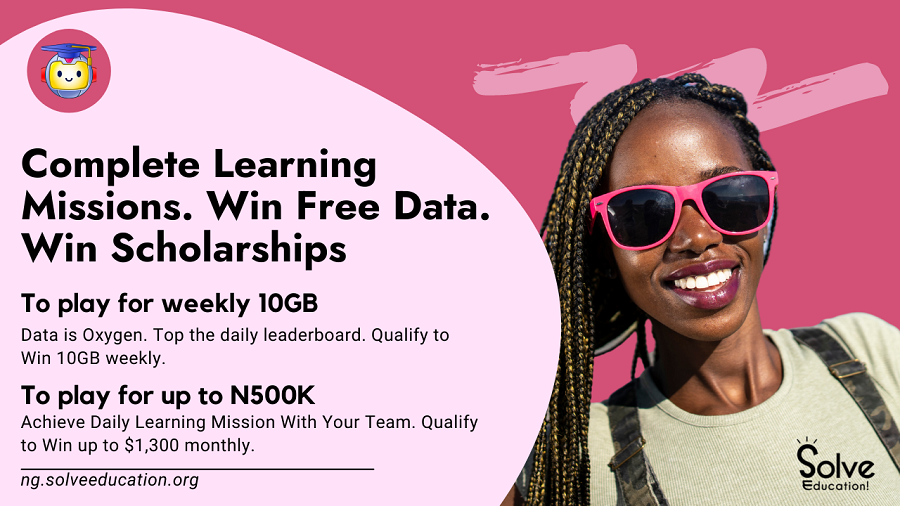 Call for Participants: Solve Education! Learning Program 2021 (Win free data and scholarships)
Deadline: October 31, 2021
Applications for the Solve Education! Learning Program 2021 are now open. Solve Education! incentivizes learning through its telegram AI chat teacher, Ed The Learning Bot. The organization awards a monthly scholarship up to $1,300 USD to youths that are capable of leading teams to achieve daily learning goals.
Mobile data will be provided for top learners up to 10GB weekly, to assist in remote learning. This holistic learning experience offers youth opportunities to hone their leadership skills and teamwork, as they work to achieve learning objectives.
Solve Education! Nigeria wants to change the way people learn. They empower people to empower themselves by gamifying learning for lifelong benefits.
Benefits
A chance to win up to $1,300 USD monthly scholarship when you make significant learning progress with your team;
Access weekly 10GB data to keep learning with their AI chat teacher, when you rank top of the daily leaderboard on any day of the week
Eligibility
Applicant must:
Be resident in Africa;
Be between 15-30 years old;
Have telegram installed on your device to access Ed the Learning Bot.
Application
The Solve Education! Learning competition takes place through the telegram bot, Ed the bot. Join the contest by registering to lead a team.
Players must collect points by playing with Ed the bot on telegram to be ranked on the leaderboard. The points will be counted daily from 8 AM WAT until 7:59 AM WAT the next day. Place in the top 20 to collect a ticket for your team and be eligible for the weekly draw! One group can only get a maximum of 5 tickets per day.
For more information, see FAQ and visit Solve Education! Learning Program.