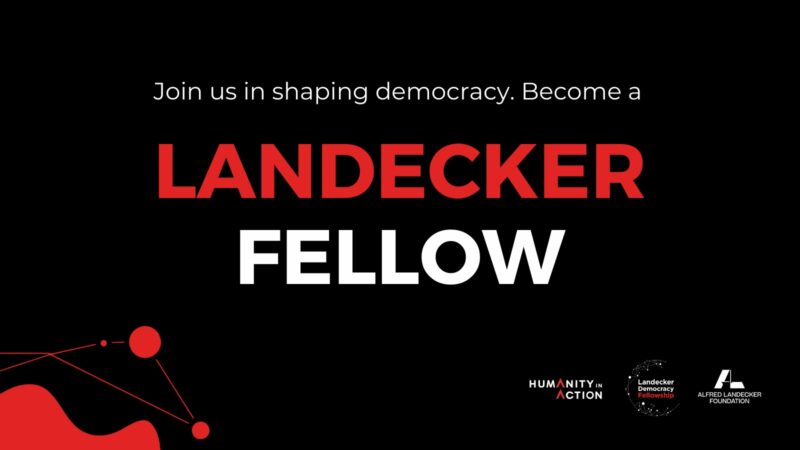 Humanity in Action Landecker Democracy Fellowship 2021/2022 (Stipend of 10,000 Euro)
Deadline: July 11, 2021
Applications are open for the Humanity in Action Landecker Democracy Fellowship 2021/2022. In partnership with the Alfred Landecker Foundation, Humanity in Action has launched the Landecker Democracy Fellowship to build a new generation of leaders whose approaches to political and societal challenges become catalysts for democratic placemaking and community building.
The thematic focus of this year's Landecker Democracy Fellowship is social cohesion, for which they invite applicants to develop compelling project ideas. It is their goal to support young professionals in their quest to build bridges and form unique and lasting ties among those who are increasingly drifting apart.
The Alfred Landecker Democracy Fellows commit to join all the virtual and in-person training sessions, to actively participate with their designated pod, to design/implement/evaluate their proposed project activities, to engage their existing networks in realizing their projects, and to establish new partnerships along the way.
As part of their project activities, the Alfred Landecker Democracy Fellows also commit to publish at least one article or op-ed through Humanity in Action or another media outlet. Overall, they expect their Fellows to produce tangible outcomes that have a publicly visible impact on their own and other communities.
Benefits
A Fellowship stipend of 10,000 Euro, to be paid out monthly over 12 months;
A project seed funding grant of 5,000 Euro for the implementation of the Fellow's project idea;
The participation in all virtual training sessions as well as additional skill-building and training opportunities;
The participation in a six-day in-person Action Academy in Berlin (March 2022);
Costs for travel and accommodation for the offline Action Academy;
Guidance and coaching in developing and executing the project idea and its activities;
Upon completion of the Fellowship, participation in a global network of leaders poised to contribute to civic society and exposure to opportunities provided by other Humanity in Action programming, such as professional fellowships, grant competitions, study trips, international conferences, leadership roles and speaking engagements. The Landecker Democracy Fellows will form a unique alumni community within the larger Humanity in Action community and maintain strong ties to the Alfred Landecker Foundation and their alumni from other programs.
Eligibility
To apply for this program, you need to have been born in or after 1980. If you were born prior to 1980, you are not eligible to apply.
You are eligible to apply if you are a permanent resident in one of the EU member states, the UK or the US. Citizenship is not a requirement. The target group of the project and its related activities needs to include communities from the country of your residence. This can be online and/or offline and across borders.
The project proposal and its related activities need to focus on the specified geographic range (EU, UK or US). Depending on your specific life situation, please determine whether you could achieve the implementation of the project under the given circumstances.
All Humanity in Action Fellowship Programs are conducted in English.
Application
The next Landecker Democracy Fellowship takes place from November 7, 2021 to November 6, 2022. Applications are now open until midnight PST on July 11, 2021.
For more information, visit Landecker Democracy Fellowship.