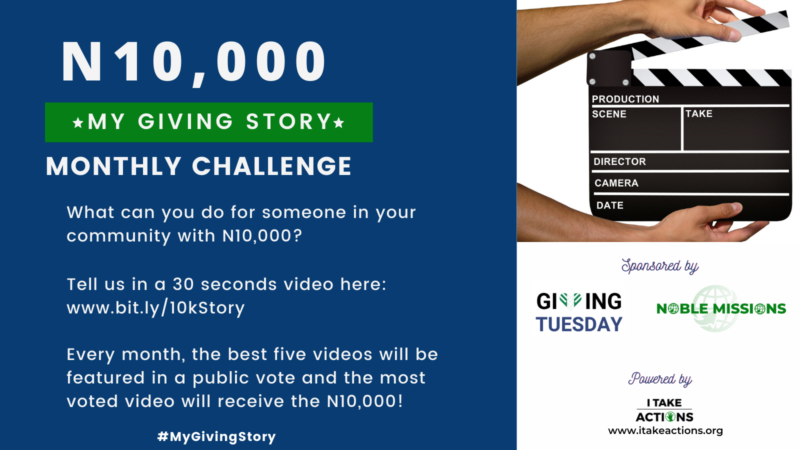 GivingTuesday Nigeria #MyGivingStory Challenge 2021 (N10,000 prize)
Deadline: Ongoing
Applications are open for the GivingTuesday Nigeria #MyGivingStory Challenge 2021. The #MyGivingStory challenge is a monthly public competition designed by GivingTuesday Nigeria in collaboration with Noble Missions and powered by I Take Actions, to deepen generosity in Nigeria.
All that the participants need to do is tell GivingTuesday Nigeria in a 30 seconds video what they can do for someone in their community with N10,000 and on a monthly basis, the best five videos will be featured in public voting, and the video with the highest votes in the month will receive N10,000!
About GivingTuesday
GivingTuesday is a global generosity movement unleashing the power of people and organizations to transform their communities and the world. The movement was launched in 2012 in New York as a simple idea; a day that encourages people to do good. Over the past seven years, it has grown into a global movement in over 60 countries including Nigeria that inspire hundreds of millions of people to give, collaborate, and celebrate generosity.
Prize
A sum of 10,000 Naira will be given for the winner to implement as shared in the story.
Eligibility
Open to Nigerians only;
You video submission must be clear enough, both audio and visual.
Application
To partake in this challenge, all you have to do is make a video. You can use your phone to record a selfie and upload. Do not edit the video. And the video should not be more than 30 seconds. Briefly tell them what you will do for someone in your community with N10,000 and why you chose this person to help.
For more information, visit #MyGivingStory Challenge.