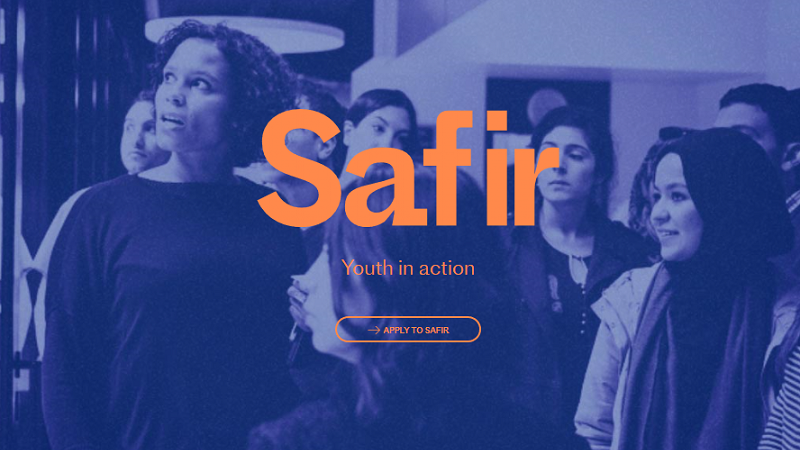 Safir Incubation Program 2021 for Youth in the MENA Region
Deadline: July 5, 2021
Do you want to have a social impact, join a community of like-minded social innovators? Do you think out of the box and place collective intelligence above personal performance? Are you looking for an innovative support program with strong regional networking and finance opportunities? Apply for the Safir Incubation Program 2021.
Safir is an ambitious project supporting the achievement of the Sustainable development goals (SDGs) and youth social inclusion in 9 countries across Northern Africa and the Middle East. Co-financed by the European union, it aims at creating an environment that fosters youth participation and development of entrepreneurial or media projects with social, cultural or environmental impact.
Program Details
6 months of incubation (from Mid-September 2021 to Mid-March 2022) for 90 young project leader;
6 months of acceleration (from Mid-March to Mid-September 2022) for at least 45 young project leaders, with a grant up to 25,000 Euros;
Travel and networking opportunities.
Eligibility
You are between 20 and 30 years old;
And you are from and resident in one of the following 7 countries: Algeria, Egypt, Jordan, Lebanon, Morocco, Palestine, Tunisia;
And you have initiated/are about to initiate an entrepreneurial or a media project with a social, cultural or environmental impact.
Application
Note that to apply, you must indicate whether you are applying as a :
Media project leader (student or not)
Student or young graduate project leader with a social, cultural or environmental impact (diploma obtained in 2019, 2020 or 2021)
Project leader with a social, cultural or environmental impact
Depending on your status, the following documents will be requested:
An ID card or passport (required) – identity documents will be kept on the Safir project jury area. They will be kept for 6 months if your application is rejected, 2 years maximum if it is accepted – unless you object.
A CV (required)
A copy of your student card or a document proving that you are a student (required only if you apply in the student category)
A proof of support for your application from your university and/or one of your professors (optional only if you apply in the student category)
A copy of your diploma obtained in 2019 or 2020 or a document showing that you are graduating in 2021 – transcript or a proof of completion from your university. If these documents are not available, attach a proof of your schooling for the 2020-2021 academic year (required only if you apply in the young graduate category)
A social business model canva or any document about your business model (optional)
If you have already created a legal entity for your project, a document attesting it (mandatory only for those who have already created their legal entity)
Applications from projects located outside capital cities and/or carried by women are strongly encouraged.
For more information, visit Safir Incubation Program.