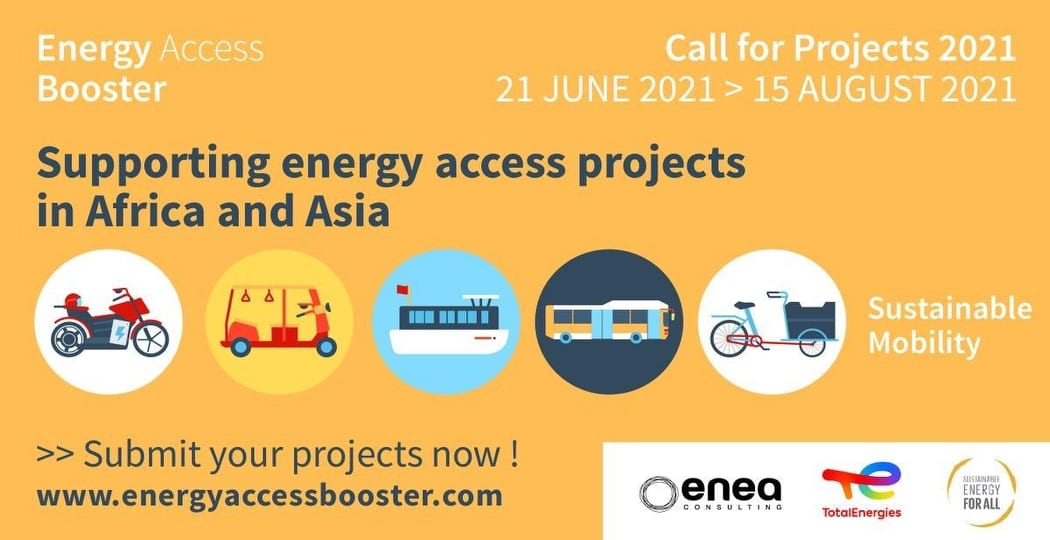 Call for Projects: Energy Access Booster 2021 (Funding of $50,000)
Deadline: August 15, 2021
Are you an entrepreneur operating in Africa or in Asia? Are you working on a Sustainable Mobility project? Submit your project for the Energy Access Booster 2021. TotalEnergies, Enea Consulting and Sustainable Energy for All (SEforALL) are launching the Energy Access Booster 2021 call for projects to support Sustainable Mobility entrepreneurs operating in Africa and Asia.
The 2021 edition targets projects at the development stage and companies focusing on the following sub-themes of Sustainable Mobility:
Navigation and mapping tools
Shared mobility
Ride-hailing
Delivery services
Connecting isolated communities
Mass-movement transport
Cleaner vehicles and infrastructure
Benefits
Successful applicants will benefit from one or more of the following support schemes, depending on their needs and the applicable eligibility criteria:
A financial contribution of up to $50,000 per selected entrepreneur;
Strategic advisory support;
Operational support
Increased visibility for their venture and company
Eligibility
You are a private company;
Your main activities and operations are in Africa or Asia;
You have raised less then $5m since inception;
You already have an operational pilot for the submitted project and you generated more than $5,000 revenue during the last quarter
Your company is active in one of the defined following sustainable mobility sectors for this call for project: Navigation and mapping tools, Shared mobility, Ride-hailing, Delivery services, Connecting isolated communities, Mass-movement systems, Non-motorised transport, Cleaner vehicles and infrastructure.
Application
The call for projects is open to applicants and will close on August 15, 2021.  The selection of the successful applicants is scheduled to take place between mid-August 2021 and November 2021.
For more information, visit Energy Access Booster.